Sally Struthers
Returns To Reagle Players
In Habit-Forming "Nunsense"
Following her stint in "Annie" last summer with The Reagle Players, "All in the Family's" Sally Struthers (below) returns to Waltham in the hit musical satire, "Nunsense." The production will recreate the 25th Anniversary Tour edition under the supervision and direction of the show's original creator and award-winning mastermind, Dan Goggin.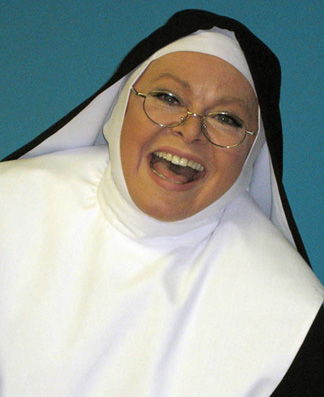 Performances are set for April 24 - 26 at Robinson Theatre, located at 617 Lexington Street in Waltham. (The theater offers acres of free parking.) Goggin will conduct an informal question and answer session following each performance.
"Nunsense" begins when the Little Sisters of Hoboken discover that their cook, Sister Julia, Child of God, has accidentally poisoned 52 of the sisters with a batch of tainted vichyssoise. The surviving sisters escaped the same fate as they were off playing bingo with the Maryknolls. Now, they're in dire need of funds for proper burials. Ever creative, the sisters decide to raise money by putting on a variety show. So they take over the school auditorium at Mount Saint Helen's High, which is currently set up for the eighth grade production of "Grease."
The spotlight soon focuses on Reverend Mother Regina, a former circus performer; Sister Mary Hubert, the Mistress of Novices; Sister Robert Anne, a streetwise nun from Brooklyn; Sister Mary Leo, a novice and a wanna-be ballerina; and the delightfully off kilter Sister Mary Amnesia, the nun who lost her memory when a crucifix smacked her on her head. Featuring star turns, tap-dancing, an audience quiz, and lots more, "Nunsense" has been translated into 21 languages around the globe.
At Reagle Players, Sally Struthers will star as Mother Superior, no doubt applying the same comedic skills to "Nunsense" that she brought to "Annie." Local audiences last season applauded her antics while area critics awarded her an IRNE nomination as Best Actress in a Musical for her romp as the Miss Hannigan, the comically evil head of Annie's orphanage.
For tickets and information, call 781 891 5600 or visit www.reagleplayers.com.
-- OnStage Boston