Boston Theater Marathon
Expands To Weekend-Long Event
May 16 - 17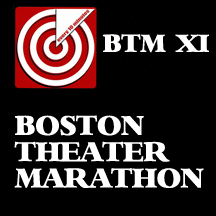 After a decade of performances, the Boston Theater Marathon will expand this year to a two-day, weekend-long event on May 16 and 17. The expansion is part of a multi-year plan to develop the Boston Theater Marathon to include multiple venues, hundreds of performers and thousands of theater patrons – not unlike Edinburgh's famed festival.
The Warm-Up Laps – May 16
The expansion of the Boston Theater Marathon will include three staged readings of new plays, including Pulitzer nominee Theresa Rebeck's "The Novelist," directed by the Huntington Theatre Company's Artistic Director Peter DuBois. The readings will take place in the Calderwood Pavilion's Deane Rehearsal Hall at the Boston Center for the Arts, located at 527 Tremont Street. The Warm-Up Lap sessions are free and open to the public. The schedule is as follows:
The Publick Theatre presents
"Jacob and the Stranger"
by Alan Brody
Directed by Diego Arciniegas
Reading begins at 11 a.m.
Company One presents
"Annie Desmond Gets a Tattoo"
by Kirsten Greenidge
Directed by Shawn LaCount
Reading begins at 3 p.m.
The Huntington Theatre Company presents
"The Novelist "
by Theresa Rebeck
Directed by Peter DuBois
Reading begins at 7 p.m.
Boston Theater Marathon XI – May 17
For 2009, the Boston Theater Marathon will feature 50 ten-minute plays by 50 New England playwrights performed by 50 New England theater companies from Noon to 10 p.m. at the Virginia Wimberly Theatre at the Stanford Calderwood Pavilion at the Boston Center for the Arts on Sunday, May 17. Tickets are $25 in advance, or $30 at the door.
Marathon co-founder Kate Snodgrass commented, "The Boston Theater Marathon brings together the entire theatre community of Boston. With our friends at the Boston Center for the Arts, we hope in the coming years to bring the entire city of Boston together in the similar spirit of Edinburgh's festival."
The full schedule of offerings will be announced soon.
For tickets, call 617-933-8600 or visit www.bostontheatrescene.com
-- OnStage Boston