"Santaland Diaries" Returns To New Rep
December 16 - January 3
Back by popular demand, Downstage@New Rep is reviving David Sedaris' autobiographical comedy, "The Santaland Diaries." After his third sold-out run last season, Crumpet, the wickedly funny Macy's Elf, returns to tell his strange-but-painfully-true account of adventures in holiday retailing. .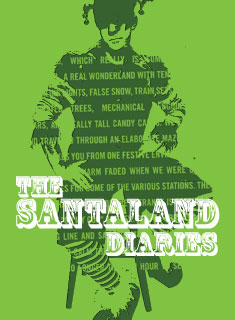 Christopher Webb will be returning to direct "The Santaland Diaries," with Gary Littman playing the caustic role of Crumpet for the first time. Performances run December 16 through January 3 in the Black Box Theater at the Arsenal Center for the Arts, 21 Arsenal Street in Watertown.

Kate Warner, New Rep's Artistic Director, commented, "This show is the perfect treat for adults looking to escape from the stresses of the holiday season. Sedaris' personal memoirs provide prime material for a funny and entertaining experience."
Gary Littman's New York credits include "Bonnie & Clyde" at the Chernuchin Theatre, "A Fine and Private Place" at The York Theatre, and "Minnie's Boys (playing Groucho Marx) at The Jewish Repertory Theatre. Regionally, he has been seen everywhere from Actors' Shakespeare Company to Atlanta's Theater of the Stars.

Christopher Webb's directing credits include work from New Rep to The Peterborough Players, Foothills Theatre Company, Boston Theatre Marathon and The National Theatre Conservatory. He is a member of the faculty at the Boston Conservatory.
Playwright David Sedaris made his comic debut recounting his strange-but-true experiences of being a Macy's elf clad in green tights, reading his "Santaland
Diaries" on National Public Radio's "Morning Edition". His sardonic humor and incisive social critique have since made him one of NPR's most popular and
humorous commentators as well as a best-selling author in the United States and abroad. In addition to his commentaries on NPR, David Sedaris is the author of the best sellers Barrel Fever, Naked, Me Talk Pretty One Day, and Dress Your Family in Corduroy and Denim. His other book, a collection of Christmas-related stories, is entitled Holidays on Ice. His most recent book of essays, When You Are Engulfed in Flames, was published in June 2008 and became an immediate bestseller.
David and his sister, actress Amy Sedaris, have collaborated under the name The Talent Family and written several plays which have been produced at La Mama and at Lincoln Center in New York City. They include "Strump the Host," "Stitches," "One Woman Show," "Incident At Cobbler's Knob," and "The Book of Liz."
Free parking is available adjacent to the theater. For information and tickets, call 617-923-8487 or visit www.newrep.org.