---

New Boston Dates
For Chamber Theatre's "Eureka!"
Spring Sirkin, Producing Director of Chamber Theatre, has announced additional Boston performances of "Eureka!," the new play based on the principles of mathematics, will take place on December 21 at John Hancock Hall, and December 23 at Berklee Performance Center.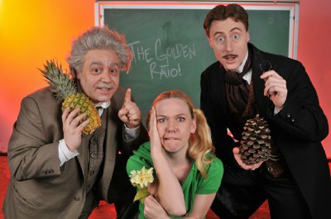 This new production, written by Shaun Wainwright-Branigan and directed by David Krinitt, follows Sara, a teenage student struggling with math. On the eve of her big test, she is visited by some of the luminaries of the mathematical world, including Albert Einstein, Blaise Pascal, Lady Ava Lovelace, and Pythagoras. Together, they show her how math relates to the real world. They explore number theory, probability, prime numbers, the Fibonacci sequence, the origins of the calculator and the computer, Pascal's triangle, and more.
Chamber Theatre is acclaimed for its productions of "CLASSICS!" and "ENCORE!!," which dramatize works of renowned authors.
For information and reservations, call 800-225-7988.