National Tour of "Dreamgirls"
To Play Colonial Theatre February 2 - 14
Tickets On Sale Now
As part of the Lexus Boston Area Dealers Broadway Across America – Boston Series, the hit musical "Dreamgirls" will play Boston's Colonial Theatre for a limited engagement February 2 - 14.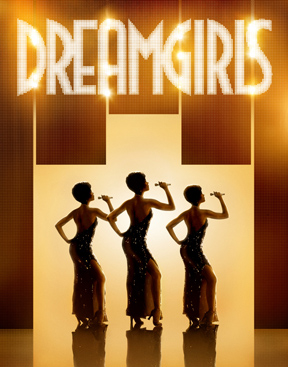 "Dreamgirls" features music by Henry Krieger and lyrics and book by Tom Eyen with additional material by Willy Reale. The touring production is directed and choreographed by Robert Longbottom with co-choreography by Shane Sparks.
Full of joy and drama played out both onstage and backstage,"Dreamgirls" tells the story of an up-and-coming 1960s singing girl group and the triumphs and tribulations that come with fame and fortune.
Hopeful talents Deena Jones, Lorrell Robinson and Effie White are performing as The Dreamettes when ambitious agent Curtis Taylor, Jr. discovers them. He lands them a job as backup singers for the soul and rock 'n' roll sensation James "Thunder" Early and begins to guide their quickly rising career. However, when the beautiful Deena emerges as the star of the group rather than the full-voiced Effie, the girls find themselves at personal and professional crossroads.
"Dreamgirls" will introduce Moya Angela as Effie White and feature, as The Dreams, Syesha Mercado as Deena Jones, Adrienne Warren as Lorrell Robinson, and Margaret Hoffman as Michelle Morris. Also Chaz Lamar Shepherd as Curtis Taylor, Jr., Chester Gregory as James "Thunder" Early, Trevon Davis as C.C. White, and Milton Craig Nealy as Marty Madison. The cast of 26 also includes Tallia Brinson, Felicia Boswell, Ronald Duncan, Patrice Covington, Talitha Farrow, Brittney Griffin, James Harkness, Robert Hartwell, Eric Jackson, Chauncey Jenkins, Jared Joseph, Nikki Kimbrough, Brittany Lewis, Douglas Lyons, Kimberly Marable, Jarran Muse, Amaker Smith and Marc Spaulding.
The original Broadway production of "Dreamgirls" opened December 20, 1981, at the Imperial Theatre following a pre-Broadway engagement at Boston' Shubert Theatre. Directed by Michael Bennett and choreographed by Bennett and Michael Peters, the production would go on to win six Tony Awards, three Drama Desk Awards and elevate Jennifer Holliday to stardom with the song "And I Am Telling You I'm Not Going."
"Dreamgirls" was adapted into a hit motion picture by DreamWorks Pictures and Paramount Pictures in 2006. The film won two Academy Awards, five Golden Globes, and two Screen Actor's Guild Awards in 2007 in addition to a Grammy Award for Best Song written for a Motion Picture ("Love You I Do"). "Listen," has been incorporated into the new stage version as an Act II duet for Deena and Effie. This all-new production of "Dreamgirls" premiered at Harlem's legendary Apollo Theater in New York City on November 22, 2009, before embarking on its tour.
For tickets and information, call 800-982-2787, stop by the box office at The Colonial Theatre or visit BroadwayAcrossAmerica.com/Boston