Fort Point Theatre Channel
Presents
"Carny Knowledge: A Sideshow Extravaganza"
Fort Point Theatre Channel begins the new year by heading across The Charles to Cambridge to present "Carny Knowledge: A Sideshow Extravaganza of Original Plays and Extraordinary Oddities," an array of carnival-inspired plays and carnival-style performances. Performances at the Cambridge YMCA Theatre (820 Mass. Avenue in Central Square) are January 29 - February 6.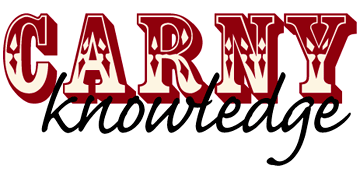 Drawing its roots from the sideshows that spread across the nation from the mid-1800s to the mid-1900s, "Carny Knowledge" conjures up that mysterious thrill that would envelop curious onlookers every time the circus came to town, accompanied by the cacophony of sideshow barkers promising the wonders of the world to those who never strayed far from home. "Carny Knowledge" will be Fort Point Theatre Channel's second playfest.
With a gaggle of playwrights, filmmakers, musicians, dancers, roustabouts, and other diverse practitioners of the carny crafts, Fort Point Theatre Channel will create six evenings of ballyhoo, burlesque, and incomparable carnival-style entertainment.
THE PLAYS
"With You or Without You." Great magnetic balls of steel!! Rolling this way and that . . . video and audio art by Bebe Beard and Lou Cohen. Adapted especially for "Carny Knowledge."
"Tales of the Midnight Carnival," a set of very short vignettes by talented Toronto-based writer Peter Cavell about a bizarre, twisted traveling carnival. A U.S. premiere.
"Love Me, Leave Me," by David Dudley of New York City, explores both our capacity to forgive and the concept of "freak." A world premiere.
"On My Chest," with San Francisco writer Gaea Denker-Lehrman's very original lyrics set to the tune of "Be My Guest," is a disgusting ditty about the most perverse of acts, performed in full drag. An East Coast premiere.
"Wife of Bobbo," by Massachusetts playwright M. Lynda Robinson, investigates marriage at a crucial point, taking on a deep topic with a lot of fun—and questions left at the end. Adapted especially for "Carny Knowledge."
"Lionel Banished," by FPTC member Nick Thorkelson, asks, "What happens when the lion tamer goes to the dogs?" A world premiere.
"Scuffle and Jump," by John Weagly of Chicago, presents Penny, who entertains us with her tap dancing, inspired by Fats Waller, Fred Astaire and Ginger Rogers -- but still, there's something about her. A world premiere.
INSTALLATION PIECES AND CARNY CRAFTS
"Bella Curva" offers duo contortion, combining the flexibility and strength of contortion with the grace and artistry of dance.
"The Boston Hoop Troop," a collective of hula hoopers, practices, performs, and teaches the graceful art of hoop dance. Featuring Little L, Lolli Hoops and Marria Grace.
"Clowns on the Left" and other animation pieces by Massachusetts filmmaker Mick Cusimano. Unique, reflecting the contradictory impulses we all feel about sideshows, circuses, and ourselves.
"The Crocodile Boy Project: See the Freek!," by Ed Valentine of New York City and Megan McDavid of Colorado, features both an onstage "show" and a backstage peak into the freak's life. A New England premiere.
"A Different Spin," a group of performers spreading their love of circus across the country, offers a variety from their repertoire, such as juggling, glass walking, magic and card tricks, poi spinning, acrobatics, clowning, and more. Featuring Ricky Hawkins and Michael "Mooch" Mucciolo.
"Honey Suckle Duvet." A burlesque dancer and tarot reader, captures audiences in a golden sweet embrace, whether she's undulating to the sultry rhythms of soul, sensually moving to classical, or boldly strutting to rock.
"Gathering," a video "sideshow" by Douglas Urbank that blends hand-altered 16 mm and super 8 mm film with stills, ink, paint, and other media.
For information and tickets, call 800-838-3006 or visit www.brownpapertickets.com/event/90678