Underground Railway Theater Presents
"Tru Grace: Holiday Memoirs"
Two heartwarming journeys into the foibles of the holiday season are adapted for the stage when Underground Railway Theater presents a double bill of Grace Paley's "The Loudest Voice" and Truman Capote's "A Christmas Memory" -- both adapted and directed by Wesley Savick. These whimsical holiday tales will play at Central Square Theater November 19 - December 27.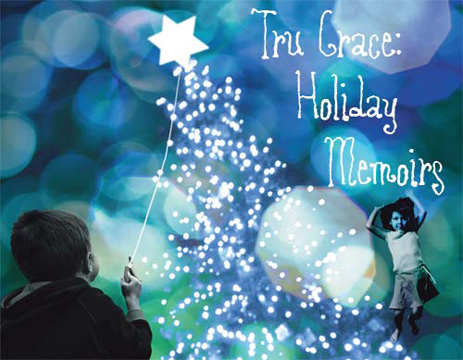 Joyful and rich with humor, both stories are set in the 1930s and told from the point of view of children – one a girl from the Bronx, the other a boy from Alabama.
Grace Paley's "The Loudest Voice" takes audiences to a Russian Jewish immigrant school where, "without shame," gentile teachers annually stage the Nativity. Shirley, a bright young Jewish girl is asked to narrate the play due to her loud clear voice.
In "A Christmas Memory," Truman Capote recalls his close friendship with another social outcast, his wildly eccentric older cousin, and their holiday tradition of making fruitcakes. This nostalgic tale of love and a shared understanding evokes the simple joys and sorrows of the holidays.

Wesley Savick previously adapted and directed Alan Lightman's novel, "Einstein's Dreams," for Underground Railway Theater. He directed The Nora Theatre Company's area premiere productions of Eric Overmyer's "On the Verge," Steven Berkoff's "The Secret Love Life of Ophelia" and "The Man Who" by Oliver Sacks, Peter Brooks and Marie-Hélène Estienne. He has also written, co-written or adapted eighteen produced plays, including "Miss Margaret LaRue in Milwaukee," which premiered at the Boston Playwrights' Theatre. A tenured Associate Professor of Theatre at Suffolk University, he is the founding director of The National Theatre of Allston, a new company devoted to original, avant-garde political work

Conversations with special guests, local academics from Harvard University and MIT, and the actors will follow select performances.
For tickets, stop by the Central Square Theatre box office at 450 Massachusetts Avenue in Cambridge, call 866-811-4111 or visit www.centralsquaretheater.org.