---

Trinity Rep Presents 33rd Annual "Christmas Carol"
Trinity Repertory Theatre in Providence is celebrating its 33rd year of presenting Charles Dickens' "A Christmas Carol," adapted by Adrian Hall and Richard Cumming. Performances run through December 27 in the Chace Theater.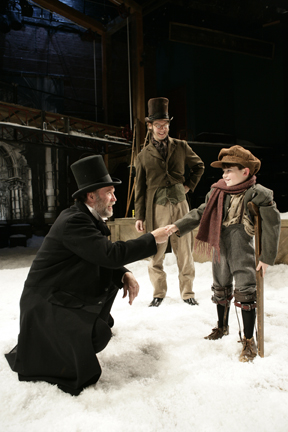 Heralded as "The crowning jewel of holiday theatre here in Rhode Island" by EDGE Providence, this annual New England holiday tradition will be reimagined for local audiences by director Birgitta Victorson. Unlike previous seasons, this year's production also features one adult cast lead by Timothy Crowe in his 10th year as Scrooge.
Appealing to young and old alike, this timeless tale of the power of forgiveness demonstrates that anything is possible, and hope is just around the corner.
Ebenezer Scrooge is confronted on Christmas Eve by the eerie apparition of his deceased business partner, Jacob Marley. The ghost bears a stern warning that Scrooge has one last chance to mend his ways. Three spirits visit him that night --the Ghosts of Christmas Past, Present and Future. Through their magical travels, Scrooge greets Christmas morning with newfound joy and the chance to redeem his ways.

Director Birgitta Victorson (who also directed and choreographed Trinity's world premiere musical "Paris by Night") feels that Dickens' classic tale is just as timely today as it was when it was first written. She commented, "The great thing about this story, and the reason why it's done every year around the world, is that no one has written a better Christmas story that resonates on a basic human level -- and does so with universal appeal. I think there's so much about the story that people need to see, especially in these economic times, so as to just be reminded that life isn't about having money or not having money. At the end of the day, it's just about being the most loving, caring, compassionate person that you can be."

The cast includes Angela Brazil as Lucy, Janice Duclos as Mrs. Fezziwig, Mauro Hantman as Bob Cratchit, Barbara Meek as The Ghost of Christmas Past, Anne Scurria as Mrs. Partlet, Fred Sullivan, Jr. as The Ghost of Christmas Present, Rachael Warren as Mrs. Cratchit and Joe Wilson, Jr. as Jacob Marley. Alongside the resident company are Brown/Trinity MFA program actors Sam Haley-Hill, Per Janson, David Rudi Utter, and Monica Willey.
For tickets and information, stop by the box office at 201 Washington Street in Providence, call 401-351-4242, or visit www.trinityrep.com.