A Review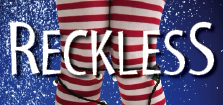 Snow Happens
By R. J. Donovan
Do we every really know each other?
Apparently not. In Craig Lucas' black comedy "Reckless," the show's heroine, Rachel, would love if it her husband gave her a puppy for Christmas. What he actually does is put a contract out on her life. On Christmas Eve. (Talk about finding out there's no Santa.)
Rachel, the gleeful mother of two, is in a constant case of euphoria and would dearly love it if Christmas lasted all year long. Still, she winds up alone, out in the snow in her nightgown and candy cane stockings, frantically running from a hitman. And what happens over the next 100 minutes ranges from laugh out loud funny to inconsistent.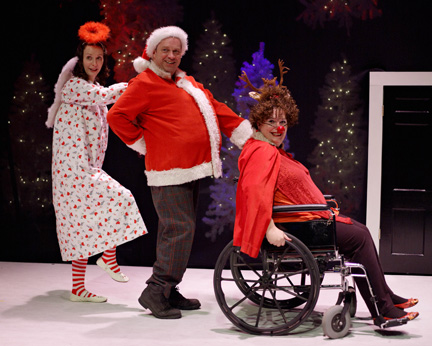 The surreal tale takes on an Alice In A-Less-Than-Wonderful Wonderland patina as Rachel meets a motley crew of characters, including Lloyd, the guy who picks her up in the snow and invites her to come and spend Christmas with him and his wife, Pooty, a deaf mute paraplegic who can actually hear and speak. Lloyd gets her a job in the fundraising offices of Hands Across The Sea where she becomes assistant to Trish, a sullen lunk of an accountant who, as it turns out, has her hand in the till -- all the way to the elbow. When Rachel finally decides she needs to talk about her problems, she spins through a series of psychiatrists who do little to help. She also winds up on a game show, crosses paths with the woman who killed her mother and indirectly causes the death of her husband.
Every character has a certain duplicitous quality, perhaps indicating that we all live lies to get by. Call it reckless living with a side order of melancholy.
Playwright Craig Lucas started off as an actor, performing in such musicals as "Shenandoah," "On The 20th Century" and "Sweeney Todd." He's also the author of "The Dying Gaul" (which SpeakEasy presented several years back), "Prelude To A Kiss," the book for "The Light In The Piazza," and the screenplay for "Longtime Companion," among others.
He wrote "Reckless" in 1984, early in his career as a playwright. His skewering of television shows is now tame when compared to the reality of, well, reality TV. As a result, the game show segment isn't very funny. And when Lucas drags it out, the show audibly grinds its gears.
With the exception of Marianna Bashman who plays Rachel, each of the actors does double and triple duty in a variety of roles. Paula Plum provides many of the bright spots in the show as a series of psychiatrists. From domineering therapist to German nut job, she is sharp and funny, especially as she tries to get Rachel to relive her own birth.
Bashman, who won an Elliot Norton Award for her performance last season in SpeakEasy's "Blackbird," gives it her all here, but she's dealing with a talky story that just seems to try too hard.
Larry Coen is the robotic Lloyd. Like everyone else, he's got a past filled with secrets. As Pooty, Kerry Dowling, adorned with a frizzy top-knot, spins in her wheelchair, busting to speak but knowing she can't lest she lose the love of her life.
Karl Baker Olson, who scored heavily in last season's "History Boys," is pretty much wasted here until the final moments of the show when he has a genuine scene (as Rachel's grown-up son) that makes up for his previously being dressed as a bimbo game show assistant (with a zipper that needed an assist of its own).
Sandra Heffley is very funny as the deadpan Trish. She's also winning as a homeless person who gets a few moments of fame on the news. Barlow Adamson is Rachel's husband and Will McGarrahan has the thankless job of hosting the "Mother Or Your Wife" game show.
The scenic design by Christina Todesco is on target with a series of simple set pieces placed in front of a stage-wide backdrop of scrimmed-off Christmas trees, several of which are appropriately hung upside down.
Bottom line -- Lucas' cartoon portrait of Christmas is Currier & Ives redrawn by Charles Addams.
"Reckless" from SpeakEasy Stage, is at the Calderwood Pavilion at the Boston Center For The Arts, 527 Tremont Street, through December 12. For information, call 617-933-8600.
-- Production Photo: Mark L. Saperstein
-- OnStage Boston