Mannheim Steamroller Celebrates
25 Years Of Music With 58 City Tour
Boston Performances On December 5 & 6
Mannheim Steamroller is celebrating a quarter-century of being one of America's favorite Christmas music artists with a 58-city, 25th Christmas Anniversary Tour of their spectacular holiday show. The group will present performances at The Colonial Theatre on December 5 & 6.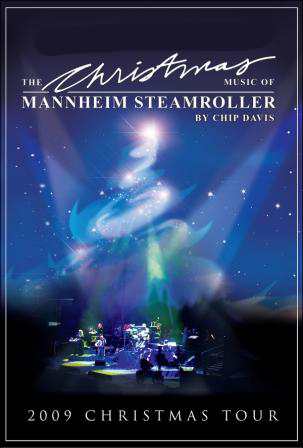 For the second year, Chip Davis, the Grammy Award-winning mastermind behind the group, will direct and co-produce both the East and West Coast tours. Launching on November 12, the shows will feature favorite Christmas selections from along with state of the art multi-media effects.
In 1984, Mannheim Steamroller released "Mannheim Steamroller Christmas." Already a multi-platinum recording artist through its "Fresh Aire" series, founder Chip Davis decided to record an album of Christmas music combining the group's signature mix of renaissance instruments with rock & roll beats. The resulting album was a runaway hit and not only propelled Mannheim Steamroller to become the biggest selling Christmas music artist in history, but also one of the top 50 biggest selling musical acts ever (they've reportedly sold more than 35 million albums).
In addition to this year's tour, the group will release a retrospective 2-CD set, "Mannheim Steamroller Christmas - 25th Anniversary Collection," featuring 25 of the group's most popular holiday classics. Spanning the group's entire Christmas catalog, the album includes "Joy To The World," "The First Noel," and "Winter Wonderland" as well as "The Christmas Song" featuring guest vocalist Johnny Mathis. Other guest performers include Paul Winter, The Cambridge Singers and members of The Chicago Symphony and The Omaha Symphony.
The personal story of Chip Davis is a true-life tale of a modern day "Renaissance Man." From founding his own record label (American Gramaphone has been ranked by Billboard as the #1 independent label), to creating the Mannheim Steamroller "lifestyle" (sales of the group's products were estimated to be $70 million a year by Time magazine), to his current work with NASA and major medical institutions such as Mayo Clinic (Chip has invented a cutting edge psycho-acoustic technology that is being used in hospitals and studied by NASA for potential use in space), his accomplishments are extraordinary.
Mannheim Steamroller's concerts at The Colonial are part of the Lexus Boston Area Dealers Broadway Across America – Boston Series. For information and tickets on the December 5 concerts, stop by the box office at 106 Boylston Street, call 1-800-982-2787 or visit BroadwayAcrossAmerica.com/Boston