Whistler In The Dark Theatre
Presents "In On It"
Whistler in the Dark Theatre has announced they'll be presenting the New England premiere of "In On It," Daniel MacIvor's elegant examination of love and loss as seen through the lens of a struggling creation. Performance dates are November 19 - December 6 at The Factory Theatre, 791 Tremont Street in Boston.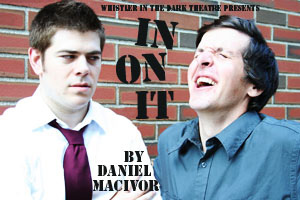 Directed by Meg Taintor, the production features Joe Lanza and Scott Sweatt.
Two men, known only as This One and That One, are creating a play…or celebrating their relationship…or tearing it apart. Funny, imaginative and heartbreaking, "In On It" is a puzzle that ultimately reveals how lives can intertwine in unintended and unexpected ways -- like the threads of a gray lambswool jacket.
Playwright Daniel MacIvor was born in Cape Breton, Nova Scotia. With long time collaborator Daniel Brooks, he created the solo performances "House," "Here Lies Henry," "Monster" and "Cul-de-sac." His play, "Never Swim Alone," won the award for overall excellence at the New York Fringe in 1998. In 2002, he won a GLAAD Award and a Village Voice Obie Award for "In On It." From 1987-2007, with producing partner Sherrie Johnson, he ran da da kamera, a respected international theatre touring company that brought his work to Australia, Israel, Europe, the UK, Canada and the U.S.
In 2006, he received the Governor General's Literary Award for Drama for his collection of plays "I Still Love You." The following year, his play "You Are Here" was translated into Japanese and produced in Tokyo. He also directed his play "How It Works" in a successful production at Tarragon Theatre in Toronto. As well, his play "His Greatness" was critically lauded in its premiere production at the Arts Club Theatre in Vancouver.

"In On It" serves as the opener to Whistler in the Dark's fifth season which examines the definitions of family through three different plays by asking questions: What does family mean? Does it provide comfort and solace? And is your family the one you were born into or the one you chose for yourself?
For tickets, call 1-800-838-3006 or visit www.whistlerinthedark.com.