Boston Pops Holiday Tradition
Returns December 9 - 27
"Twelve Days Of Christmas"Available For Download
Since premiering in 1973, The Boston Pops holiday concerts have become synonymous with Christmas in the city. The 2009 Holiday Series, under the direction of Keith Lockhart, returns December 9 -27 to Symphony Hall.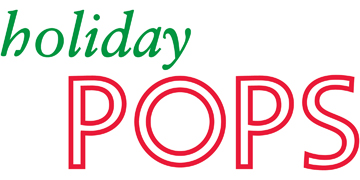 This year's Holiday Series includes 35 pre- and post-Christmas evening and matinee concerts.
The season also includes six special kids' matinee concerts that include a children's sing-along. Parents are encouraged to bring cameras to take photos of their children with Santa after the concert. Table seats will include a kid-friendly menu, along with special holiday treats.
This season also marks the availability of a new recording of the Pops' lively arrangement of "The Twelve Days Of Christmas," commissioned from Broadway composer and arranger David Chase -- described by Lockhart as "one of the best Broadway arrangers I know."
Dubbed by Lockhart as "an absolutely hysterical, virtuosic, tour de force version of 'The Twelve days of Christmas,'" the song was recorded live at Symphony Hall during the 2008 Holiday Pops season and features the Boston Pops Orchestra and Tanglewood Festival.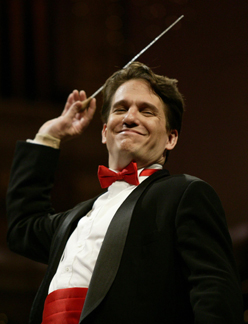 Lockhart commented, "I knew we had a winning new arrangement of "The Twelve Days of Christmas' when we premiered it in 2007, but the audience's enthusiastic response night after night was unlike anything I've ever seen at the Pops. Then a flood of letters and phone calls came in requesting a recording of the new arrangement -- an incredibly creative twist on one of the greatest Christmas-time classics. We knew then and there that we would make a recording of 'The Twelve Days of Christmas' and that it would become a staple of our Holiday season programming."
As a result, the recording is available for download at the Pops website -- www.BostonPops.org/digital -- for a nominal fee based on the format you select.
The 2009 Holiday Pops season is sponsored by Fidelity Investments. The 8 p.m. concert on December 10 is sponsored by The Fairmont Copley Plaza, the official hotel of the Boston Pops. The 8 p.m. concert on December 11 is sponsored by Commonwealth Worldwide Chauffeured Transportation, the official chauffeured transportation of the Boston Pops. American Airlines is airline partner of the Boston Pops and has sponsored the 8 p.m. concert on December 15.
Tickets for the Holiday Pops concerts are available in person at Symphony Hall, 301 Massachusetts Avenue, by calling 617-266-1200 or visiting bostonpops.org.
-- Photo: Michael Lutch