---

Vets Embark On One Final Mission
In "Heroes" At Merrimack Rep
Three aging World War I veterans plot to escape their nursing home for one final adventure in the regional premiere of the Olivier Award-winning comedy "Heroes," written by French playwright Gerald Sibleyras, adapted by Academy Award-winner Tom Stoppard, and presented at Merrimack Repertory Theatre, November 19 – December 13. The production is directed is by Carl Forsman.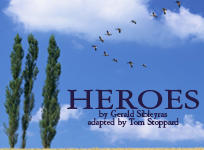 The all-Equity cast features three veteran actors including Tony Award-winner Ron Holgate and Jonathan Hogan, who will reprise their roles from the Spring 2009 Keen Company production of "Heroes." Ron Holgate won a Tony Award in 1969 for his portrayal of Richard Henry Lee in the Broadway production of "1776." He repeated the role for the film version of the musical. He has also appeared on Broadway in "A Funny Thing Happened on the Way to the Forum," "42nd Street," "Lend Me a Tenor" and "Guys and Dolls."
Tony-nominee and Drama Desk Award winner Jonathan Hogan has also made numerous appearances on Broadway, including "The Homecoming," "As Is "and "Fifth of July."
Holgate and Hogan will be joined by Ken Tigar, a television regular with over 130 television and film credits (including roles on "Barney Miller," "Dallas," "NCIS," "Growing Pains," "ER," "Cheers," "LA Law," "The X-Files," and "Law & Order"). Tigar makes his debut on the Liberty Hall stage after having appeared in Merrimack Repertory Theatre's 2007 Off-Broadway production of "Secret Order."

Set in 1959, "Heroes" tells the story of Henri, Gustave and Philippe, three World War I veterans who spend their days talking on the patio of the veteran's home. Yearning for one final adventure, and armed with only their wits and a 200-pound stone dog for companionship, they battle old age, nagging war injuries, and a masochistic nun. It is a heartwarming examination of camaraderie as well as a moving portrait of the frustrations inherent in growing older.

With this production, Merrimack Rep builds on its relationship with Off-Broadway's Obie and Drama Desk Award-winning Keen Company. Artistic Director of Keen Company and Director of "Heroes," Carl Forsman commented, "I am thrilled to be remounting Keen Company's production of 'Heroes' at Merrimack. Charles Towers is a great friend, and our experience doing 'The Breadwinner' together a few years ago told me that he has built an excellent theater with a group of patrons who appreciate quality and intelligence. I can't wait to share this little gem with them."
Acclaimed playwright Gérald Sibleyras was born in 1961 in Paris. His most notable work is the 2003 "Le Vent des Peupliers," which has been translated and produced around the world. The play premiered at the Théâtre Montparnasse and received four Molières nominations including Meilleur Auteur (Best Author). Tom Stoppard translated the play, retitled "Heroes," into English. It received its London debut at the Wyndham Theater under the direction of Thea Sharrock. The production won the 2006 Laurence Olivier Award for Best New Comedy. Future translations and productions are planned in Australia, New Zealand, Spain, and Finland among others.

World renowned Tom Stoppard is the author of "Rosencrantz and Guildenstern Are Dead," which won the Tony Award for Best Play in 1968, as well as "The Real Inspector Hound," "After Magritte," "Jumpers," "Travesties," "Night and Day," "The Real Thing," "Hapgood", "Arcadia," "Indian Ink," "The Invention of Love," "The Coast of Utopia" and "Rock 'N' Roll." Stoppard directed and wrote the screenplay for the film of "Rosencrantz and Guildenstern are Dead," which won the Prix d'Or at the Venice Film Festival 1990 for Best Film. He also wrote the screenplay adaptation of Raymond Chandler's "Poodle Springs" for HBO and "Shakespeare in Love" for Universal, which won him an Academy Award for best original screenplay, a Golden Globe, and the Broadcast Film Critics and American Guild Awards for Best Screenplay 1998.

For tickets and information, stop by the box office at 50 E. Merrimack Street in Lowell, call 978-654-4678 or visit www.merrimackrep.org.