---

Huntington Celebrates The Season
"A Civil War Christmas: An American Musical Celebration"
By Pulitzer Prize Winning Paula Vogel
Continuing its season of American Stories, The Huntington Theatre Company will mark the holidays with "A Civil War Christmas: An American Musical Celebration," a new holiday event by Pulitzer Prize winner Paula Vogel. Performances are set for November 13 - December 13.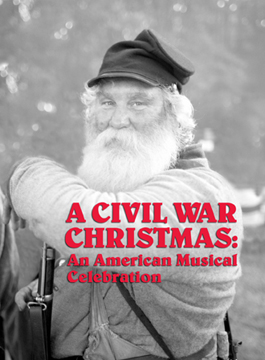 Steppenwolf Associate Artist Jessica Thebus directs while Andrew Resnick provides musical direction. The Huntington's production will be enhanced by local choirs caroling from the stage before each performance.
"A Civil War Christmas: An American Musical Celebration" takes place on Christmas Eve 1864. In the White House, President and Mrs. Lincoln plot their gift giving. On the Potomac, a young rebel soldier challenges a Union blacksmith's mercy. In the streets, a fugitive from slavery searches for her daughter on the night she finds freedom. Playwright Vogel -- author of "How I Learned to Drive," "The Mineola Twins" and "The Baltimore Waltz" -- weaves these stories and more into an American tapestry, showing that the gladness of the heart is the greatest gift of all.

Huntington Artistic Director Peter DuBois commented, "With 'A Civil War Christmas,' I was struck once again by the strength of Paula's voice. Her writing is consistently innovative and intellectually rich. With this play, she's given a great gift to us all: a new American Christmas celebration."

Vogel explained, "This story of a nation in transformation, emerging from slavery, is half imagined and half true and told partly in honor of all of the stories that are erased from history by the hand of the historians -- all of the stories hidden from us by prejudice."

Thebus added, "The story of 'A Civil War Christmas,' told directly to the audience by a community of actors, is told through fantastic music and song — originally written by forgotten hands and sung by so many voices before us. Paula's story is about transformation, and throughout the play, the cast transforms themselves into men, women, horses, mules, merchants, soldiers, figures in a dream and more. Paula's play shows with virtuosity how many twists and turns are possible with very little. You never know what magic will happen when endless transformation is possible."

"We aim to wrap our arms around Greater Boston with this special production that celebrates the American spirit and our many diverse communities," commented Huntington Managing Director Michael Maso. "In addition to welcoming a number of Boston's finest actors into the Huntington family, we look forward to having 34 choral groups from throughout our region take to our stage throughout the run." Participating choirs range from the Revels Touring Ensemble to the Spirit Gospel Singers to the Boston Children's Chorus.

Playwright Paula Vogel received the 1998 Pulitzer Prize for Drama, and the Lucille Lortel, Drama Desk, Outer Critics Circle, OBIE, and New York Drama Critics Awards for Best Play for "How I Learned to Drive." Her other plays include "The Long Christmas Ride Home," "The Mineola Twins," "The Baltimore Waltz" (OBIE Award), "Hot 'n' Throbbing," "Desdemona," "And Baby Makes Seven," and "The Oldest Profession." She is the recipient of numerous awards and fellowships including the Rhode Island Pell Award in the Arts, the PEN/Laura Fells Foundation Award, and an AT&T New Plays Award. She currently serves as the Eugene O'Neill Professor and Chair of the Playwriting Department at the Yale School of Drama.

Vogel says, "I am thrilled to join the Huntington Theatre Company and Peter DuBois this season with my newest work. I am particularly proud and happy to work with Peter, an artist I have long admired. It is wonderful to produce this work in Boston, a place that was so actively involved in the Union effort during the Civil War, and wonderful, too, to produce the work in a theatre that has enriched the city and American theatre for decades. I am excited about working on the piece where friends and younger members of my family reside, for this work was written especially for the children in my family."
The cast is led by acclaimed local actors Ken Cheeseman, Karen MacDonald and Jacqui Parker. They will be joined by Uzo Aduba, Chris Bannow, Jason Bowen, Gilbert Glenn Brown, Ed Hoopman, Savannah Koplow, DeLance Minefee, Stephen Russell, Molly Schreiber, and Hyacinth Tauriac.

The company also includes local university students Aaron Parker Fouhey, Alicia Hunt, Sarajane Mullins, Blake Pfeil, and Rebbekah Vega Romero. The following children will appear at alternating performances: Jonah Yannis, Kalaria Okali, Oliver Jay, Lily Steven, Grace Brakeman, Cameron Kelly, Gabriele Lyman-von Steig, Lauren Sabbag, Abby Spare, and Amari Veale.

Related Events:

Tuesday, November 17 at 6:30 p.m.
Playwrights Forum
Hear from playwright Paula Vogel. Free with a ticket to any performance.

Sunday, December 6, following the 2 p.m. performance
Humanities Forum
Join in a post-show conversations with a leading local scholar to explore the historical and/or literary context of the play. Free with a ticket to any performance.

Post-Show Conversations
New this season, the Huntington offers post-show audience discussions with members of the Artistic Department after most Tuesday - Friday, Saturday matinee, and Sunday matinee performances. Free with a ticket to the performance.
For tickets and information, stop by the box office at 264 Huntington Avenue in Boston, call 617-266-0800 or visit www.huntingtontheatre.org.