Be Of Good Cheer!
"It's Christmastime" At Reagle Players
Now in its 27th season, "It's ChristmasTime" returns to Reagle Players in Waltham from December 4 - 13. This year's special guest star is Reagle favorite Sarah Pfisterer, a Metropolitan Opera semi-finalist and leading lady of Broadway's "Show Boat" and "The Phantom of the Opera."
This year's production features Christmas favorites including: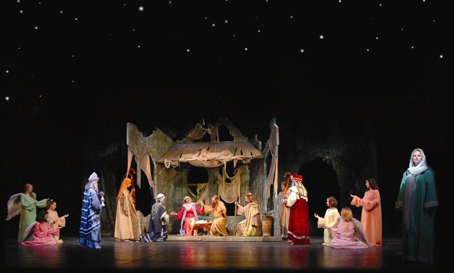 • Victorian carolers, amidst the wintry Public Gardens, bring a Currier and Ives print to life.
• Huge Nutcracker bears, joining Clara in a childlike ballet beneath an immense Christmas tree.
• A stageful of life-size Raggedy Anns and Andys, wishing one and all a clever "Merry Christmas" greeting!
• An impressive "Parade of the Wooden Soldiers," courtesy of famed Radio City Music Hall Productions. (Radio City licenses Reagle Players the exclusive and sole rights to the exact choreography and costuming used in their annual Radio City Music Hall show.)
• "The Living Nativity," a richly costumed finale, featuring a life size crèche complete with Holy Family, sojourning magi, pastoral shepherds and heralding angels -- all come to life.
The Reagle Players will present "It's Christmastime" in their home at Robinson Theatre, 617 Lexington Avenue in Waltham. For information and tickets, call 781-891-5600.