---

Company One - Phoenix Theatre
Present New Holiday Farce
"Christmas Belles"
Phoenix Theatre Artists and Company One will join to present the Boston premiere of the Southern holiday farce,"Christmas Belles," at the Boston Playwrights' Theatre from December 4 - 19. The production follows last season's successful collaboration, "The Superheroine Monologues."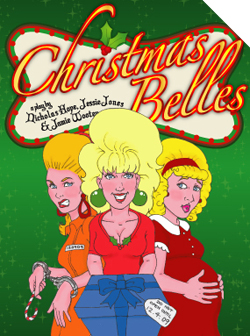 It's Christmas-time in the small town of Fayro, Texas, and the Futrelle Sisters are not exactly in a festive mood. A cranky Frankie is weeks overdue with her second set of twins. Twink, recently jilted and bitter about it, is in jail for inadvertently burning down half the town. And hot-flash-suffering Honey Raye is desperately trying to keep the Tabernacle of the Lamb's Christmas Program from spiraling into chaos.
When Frankie lets slip a family secret that's been carefully guarded for decades, all hope for a successful Christmas program seems lost, even with an Elvis impersonator at the manger. But in true Futrelle fashion, the feuding sisters find a way to pull together in order to present a Christmas the citizens of Fayro will never forget.
"Christmas Belles" is written by Jessie Jones, Nicholas Hope and Jamie Wooten. The three playwrights have impressive lists of credits: Jessie Jones co-authored the play, "Dearly Departed," as well as its screen adaptation, "Kingdom Come;" Nicholas Hope won the Texas New Playwright's Festival for his first play, "A Friend Of The Family" and was Director of Casting for ABC Television in Los Angeles; and North Carolina native Jamie Wooten has written and produced nearly four hundred episodes of network television, including four seasons on the classic series, "The Golden Girls." All three playwrights were born and raised in the pre-Walmart South and proudly proclaim their heritage.

"We are thrilled to be teaming up again with Company One to produce 'Christmas Belles,'" commented Greg Maraio, the play's director as well as artistic director of Phoenix Theatre Artists. "We know this will be a delightfully trashier alternative to the typical Christmas festivities in the Boston area."

"Christmas Belles" features Maureen Adduci, Lisa Caron Driscoll, Barbara Douglass, Terrence P. Haddad, Marc Harpin, Rory Kulz, Mary Niederkorn, Heather Peterson, Dave Sanfacon, and Carrie Ann Quinn.
Boston Playwrights' Theatre is located at 949 Commonwealth Avenue. For ticket and information, call 866-811-4111.