"Shooting Star"
At Trinity Rep
Trinity Repertory Theatre in Providence continues its 46th season with Steven Dietz's romantic comedy "Shooting Star," directed by Fred Sullivan, Jr. Real-life couple Kurt Rhoads and Nance Williamson will return to Trinity Rep after 15 years to star in the play's New England premiere. Performance dates are October 16 - November 22.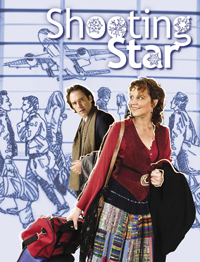 In "Shooting Star," two ex-lovers meet unexpectedly in a snow-bound airport somewhere in the Midwest. Twenty years earlier, they thought themselves soul mates but eventually lost touch with each other. Sharing stories deep into the night, they discover who they've become as they recall who they were.
On the choice to bring Kurt Rhoads and Nance Williamson back to Trinity Rep's stage, Fred Sullivan, Jr., commented "In the early '90s there was a healthy 'actor exchange program' between Adrian Hall's two acting companies in Providence and Dallas. Trinity Rep would send them Peter Gerety, Cynthia Strickland or Richard Jenkins, and they'd send us Jack Willis, Nance Williamson and Kurt Rhoads. When I read 'Shooting Star,' the pair popped into my head as ideal casting. It turns out that author Steven Dietz not only knew them but he considered them the dream cast for his play."

Kurt Rhoads and Nance Williamson appeared onstage at Trinity Rep from 1991 until 1994 in such plays as "Prelude to a Kiss," "The Heidi Chronicles," "Mrs. Sedgewick's Head," "Dancing at Lughnasa" and "A Christmas Carol." This production of "Shooting Star" marks Nance and Kurt's 55th play together.

Playwright Steven Dietz's scripts have been widely produced at American regional theaters, as well as off-Broadway and internationally. His awards include the PEN USA West Award for "Lonely Planet;" the Kennedy Center Fund for New American Plays Award for both "Fiction" and "Still Life with Iris;" and the Edgar Award for Best Mystery Play for "Sherlock Holmes: The Final Adventure." Recent work includes "Last of the Boys," "Becky's New Car" and "Yankee Tavern."
Talkback sessions will be held after every performance of "Shooting Star." Audience members are invited to share their response to the play's production and themes for approximately twenty minutes.
For tickets and information, stop by the Trinity Rep box office at 201 Washington Street, call 401-351-4242 or visit www.trinityrep.com.
-- OnStage Boston