Conor McPherson's "Seafarer"
At Merrimack Rep
October 15 - November 8
A mysterious stranger visits four friends for a Christmas Eve poker game in "The Seafarer," a Tony-nominated play by leading Irish playwright Conor McPherson, at Merrimack Repertory Theatre, October 15 – November 8. Merrimack Rep Artistic Director Charles Towers directs.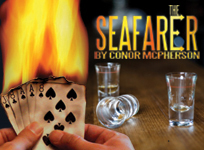 James "Sharky" Harkin has returned home to care for his aging brother Richard, who has recently gone blind. They'll spend Christmas Eve with old friends Ivan and Nicky. Nicky arrives accompanied by the mysterious Mr. Lockhart, whose connection to Sharky's past is slowly revealed as the evening devolves into an all- night, liquor-soaked game of poker where the stakes turn damningly high.
Speaking about the production, director Charles Towers said "'The Seafarer' is a fantastic play. Every theatre-lover should be able to see it, and I wanted to make sure Merrimack Rep's audiences had an opportunity to do so. I have gathered a cast of MRT regulars, each an outstanding actor, to bring this remarkable script to life. Together they will make an exceptional ensemble and an exceptional evening of theatre."
"The Seafarer" currently ranks as one of the Top 10 most produced plays in America. Nominated for four Tony Awards, including Best Play, "The Seafarer " is a funny but chilling tale of the sea, Ireland and redemption.
Born in Dublin in 1971, Conor McPherson has grown into one of Ireland's most acclaimed contemporary playwrights. He began writing at an early age, finishing his first work, Taking Stock at age 18, and had his first play, "Rum and Vodka," professionally produced in 1992. Since then he has garnered international recognition for his work, receiving the Laurence Olivier Award for Best New Play for "The Weir" in 1999, and Tony nominations for "The Seafarer" in 2006. The London Telegraph summed up McPherson's talents quite succinctly when it called him "The finest dramatist of his generation."

The all-Equity cast features five veterans of the Liberty Hall stage who have made a combined 11 appearances in Merrimack Rep productions. David Adkins and Mark Zeisler appeared in last season's production of "Tranced." Zeisler also appeared in the 2005 production of "The Homecoming" with Allyn Burrows, who won an Elliot Norton award for his role as Teddy. Burrows has previously appeared in "Aunt Dan & Lemon," "As You Like It," "God's Country," Merrimack Repertory Theatre's 1991 production of "A Moon for the Misbegotten," and "The Pursuit of Happiness" with fellow Seafarer cast-mate Jim Frangione. Tony and Drama Desk Award nominee Gordon Joseph Weiss returns to Merrimack Rep after portraying Phil Hogan in the 2009 production of "A Moon for the Misbegotten," which closed out the theatre's 30th anniversary season to rave reviews.

SPECIAL EVENT NIGHTS FOR "THE SEAFARER:"
Pay What You Will Night -- October 15 at 7:30 p.m.
Patrons may purchase tickets in cash at the Box Office between 4:30 - 7:30 p.m.and name their ticket price. Following the performance, there will be a Director's Dialogue, where the directors and designers field audience questions and describe how the play was staged.
Lowell Night -- October 17 at 8 p.m.
Lowell residents may purchase tickets for $10 at the box office from 5 -8 p.m.. Proper ID is required.
Opening Night -- October 18 at 7 p.m.
Join Merrimack Rep's staff and cast after the show in raising a glass of champagne to celebrate the opening of the show.
Cookie Matinee -- October 21 at 2 p.m.
Patrons enjoy complimentary cookies and coffee in the lobby before the show, courtesy of Brew'd Awakening Coffeehaus.
Post Show Forum -- October 22, 29 and November 5 at 7:30 p.m. Enjoy a unique opportunity to learn the inside scoop and chat with the actors following the performance.
For tickets and information, stop by the box office at 50 E. Merrimack Street in Lowell, call 978-654-4678 or visit www.merrimackrep.org
-- OnStage Boston