Boston Playwrights' Theatre
Presents
John Kuntz's "The Salt Girl"
John Kuntz, fresh from his Kennedy Center award-winning "Jasper Lake" and his co-written, much-lauded "Superheroine Monologues," returns to the stage with an altogether different theatricality.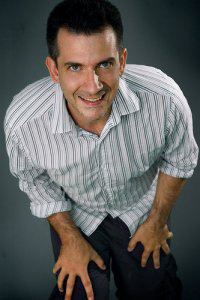 Boston Playwrights' Theatre will present "The Salt Girl," written by and featuring Kuntz, from November 5 - 22. The production will be directed by fellow Elliot Norton Award-winner David R. Gammons.
"The Salt Girl" follows Kuntz's journey as Quint, a long-depressed, family black sheep who must now comes to terms with his loneliness or give in to his family's history. The play is described a dark valentine, laced with humor, to anyone who's ever lost and found a family.
John is the author of 14 full-length plays, including "The Superheroine Monlogues" (co-written with Rick Park), "Sing Me to Sleep," "Freaks," "Starfuckers," "After School Special," "My Life with the Kringle Kult," "Miss Price," "The Hotel Nepenthe," "Glitterati," "Emerald City," "Jasper Lake," "Jump/Rope" and "Actorz with a Z."
A founding company member of the Actors Shakespeare Project, he was an inaugural Playwriting Fellow with the Huntington Theatre Company and a Fellow at the O'Neill Center 2007. His play "Jasper Lake" received both the Michael Kanin and Paula Vogel National Playwriting Awards, with productions at the Kennedy Center (Washington DC) and the New York Fringe Festival.
His recent Boston credits include "Copenhagen" and the world premiere of "The Communist Dracula Pageant" (ART); the title role in "Mr. Marmalade" (Company One); numerous productions of "The SantaLand Diaries" (IRNE Award, Best Solo Performance); "The Pillowman," "Waiting for Godot," "Scapin," "True West" and "Cabaret" (all with The New Repertory Theatre); "How I Got That Story" and "Mere Mortals" (The Nora Theatre Company); "The Mystery of Irma Vep," "The Baltimore Waltz", "Never the Sinner," and "Fully Committed" (Lyric Stage); "Betty's Summer Vacation" (The Huntington Theatre Company); and three seasons with Commonwealth Shakespeare.
Boston Playwrights' Theatre is located at 949 Commonwealth Avenue. For tickets and information, call 866-811-4111 or visit bostonplaywrights.org.