Have Yourself A "Reckless" Little Christmas
At SpeakEasy Stage
There's more to the holidays than candy canes and Christmas trees that snow on themselves. From November 13 - December 12, SpeakEasy Stage will present the Craig Lucas hit Broadway comedy "Reckless" at the Calderwood Pavilion in the Boston Center for the Arts. Scott Edmiston, who directed last season's award-winning "The History Boys," will direct.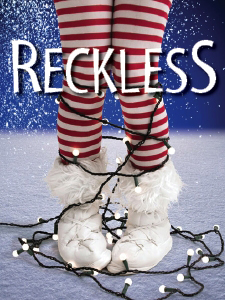 Hailed by The New York Times as "a bittersweet Christmas fable for our times," "Reckless" is a darkly comic tale about a woman named Rachel -- a modern day Alice trying to find her way in a perilous winter wonderland. When suddenly forced to flee her home on Christmas Eve, she embarks on a series of outrageous adventures that test her belief that it is indeed a wonderful life.
"Reckless" is just one of the acclaimed works by the prolific Lucas, whose plays include "Missing Persons," "Blue Window," "God's Heart," "The Dying Gaul," "Stranger," "This Thing of Darkness" (with David Schulner), "Small Tragedy," "Prayer For My Enemy" and "The Singing Forest." His screenplays include "Longtime Companion," "The Secret Lives of Dentists," "Prelude to a Kiss," "Reckless" and "The Dying Gaul," the last of which he also directed. Lucas also wrote the book for the musical "The Light in the Piazza."
After numerous regional productions, including presentations in California and Off-Broadway, "Reckless" made it to Broadway in 2004 with a cast headed by Tony Award-winning actress Mary-Louise Parker. Jointly produced by the Manhattan Theatre Club and Second Stage, the play ran for 77 performances.
2009 Norton Award-winner Marianna Bassham ("Blackbird") will play Rachel. The production will also feature Barlow Adamson, Larry Coen, Kerry A. Dowling, Sandra Heffley, Will McGarrahan, Karl Baker Olson and Paula Plum.
"Reckless" marks Scott Edmiston's sixth production for SpeakEasy. His other credits include Lucas's "The Light in the Piazza," which received the 2008 IRNE Award for Best Musical; "The History Boys," honored with two 2009 Elliot Norton Awards including Outstanding Director; "Five by Tenn," lauded with five 2006 Elliot Norton Awards including Outstanding Director and Outstanding Production; and "The Women," which received five 2007 IRNE Awards including Best Director and Best Production.
For tickets, call 617-933-8600 or visit www.BostonTheatreScene.com.