---

Maureen McGovern Brings Her Musical Memoir
"A Long And Winding Road"
To The Huntington
The Huntington Theatre Company continues its 28th season with the world premiere of Maureen McGovern's musical memoir "A Long and Winding Road." The production is conceived and written by Philip Himberg and Ms. McGovern and presented in cooperation with Arena Stage.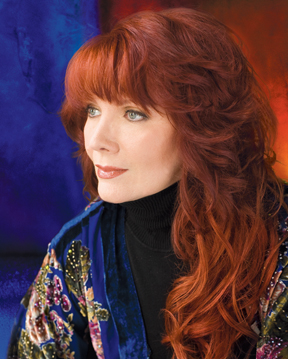 The production runs from October 9 – November 15 at Stanford Calderwood Pavilion at the Boston Center for the Arts, located at 527 Tremont Street in Boston's South End.
Chronicling the moments that define the Baby Boomer Generation, Ms. McGovern returns to her roots as a folk singer as she performs the classic songs The New York Times has dubbed "the second half of the Great American Songbook."
Sundance Institute Producing Artistic Director Philip Himberg directs while Jeffrey Harris provides musical direction and accompaniment.
"A Long and Winding Road" begins in the hope-filled '60s, works its way through the tumultuous times of Vietnam, Watergate, Civil Rights and the beginnings of the AIDS crisis, and then moves on to today and the hope of a better tomorrow. It includes beloved music by Bob Dylan ("The Times, They Are a-Changin'"), Carole King ("You've Got a Friend"), The Beatles ("Let it Be"), Joni Mitchell ("All I Want,") Paul Simon ("America"), Laura Nyro ("And When I Die"), and many more.

Huntington Artistic Director Peter DuBois commented, "When I listen to Maureen sing, I discover new layers in songs I've known for decades,. In this time of uncertainty and change in our country, her reintroduction of great American songs that inspired hope and purpose in a generation is cathartic and inspiring."

Maureen McGovern's almost 40-year career includes Grammy Award nominations for "Best New Artist" and "Best Traditional Pop Vocal," a Grammy Award for "Best Musical Recording for Children" for her participation in "Songs from the Neighborhood: The Music of Mister Rogers," and the Academy Award-winning Gold Records "The Morning After" (Billboard #1) and "We May Never Love Like This Again."
Her PS Classics release "A Long and Winding Road" was praised by The New York Times as "a captivating musical scrapbook from the 1960s to the early '70s. Ms. McGovern is blessed with a vocal technique second to none." Other critically acclaimed recordings include her tributes to Gershwin, Arlen, Rodgers, and Marilyn and Alan Bergman.

On Broadway, Ms. McGovern appeared in "Little Women, The Musical," creating the role of Marmee, for which she was nominated for a 2005 Drama Desk Award, "The Pirates of Penzance," "Nine," "Three Penny Opera", and the recent national tours of "Little Women" and "The King and I." Off Broadway, she appeared in "Brownstone," originating the role of Mary. Regionally, she has performed in "Elegies," "Dear World," "Letters From 'Nam" (originating the role of Eleanor Bridges, at the North Shore Music Theatre), "The Lion in Winter," "The Umbrellas of Cherbourg," "Of Thee I Sing," "Let 'Em Eat Cake," "The Sound of Music," "South Pacific," "Guys & Dolls," "I Do, I Do," and "The Bengal Tiger's Ball" (for which she composed the music, co-created, and starred). She also appeared in "The Towering Inferno," as the guitar-strumming nun in the film "Airplane!," and lent her voice to DreamWorks' animated feature "Joseph: King of Dreams."

Ms. McGovern commented, "Peter [DuBois]'s invaluable guidance helped greatly in the development of 'A Long and Winding Road.' I am so grateful to him and to the Huntington Theatre Company for providing a nurturing workshop environment with invited audiences last spring. I'm looking forward to returning to the Huntington with (this) piece."

Related Events:
Sunday, October 25, following the 2 p.m. performance
Humanities Forum with Steve Morse
Humanities Forums are post-show conversations with a leading local scholar that explore the historical and/or literary context of the play. Literary Associate Charles Haugland leads a discussion with former Boston Globe rock critic Steve Morse about the music featured in "A Long and Winding Road." Free with a ticket to any performance.

Post-Show Conversations
New this season, the Huntington offers post-show audience discussions with members of the Artistic Department after all Tuesday - Friday, Saturday matinee, and Sunday matinee performances. Free with a ticket to the performance.
For information and tickets, call 617 266-0800 or visit www.huntingtontheatre.org.
-- OnStage Boston