---

"Girls Night: The Musical"
Comes To Club Cafe
For Limited Run Opening October 13
The off-Broadway hit "Girls Night: The Musical" is coming to Boston's Club Café for a limited engagement, beginning Tuesday, October 13, and running through Sunday, November 22. Written by Louise Roche and directed by Jack Randle, "Girls Night" is packed with every notable female anthem from "Girls Just Want to Have Fun" to "I Will Survive," "We Are Family" "Lady Marmalade" and more.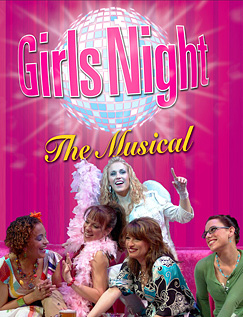 A touching and funny "tell-it-like-it-is" look at the lives of a group of female friends, "Girls Night: The Musical" follows five friends in their 30s and 40s as they relive their past, celebrate their present and look toward the future on one hilarious night out at a karaoke bar. Friends since their teens, they have all had their fair share of heartache, tragedy, joy and success.
Among the characters are party girl Carol, blunt Anita who tells it like it is, Liza with her marital (and eating) issues, boring Kate who serves as the designated driver, and Sharon, the not-so-angelic angel who just couldn't resist tagging along.
Together, they reminisce about their younger days, celebrate their current lives and look to tomorrow, all while belting out an array of classic anthems.
The story behind "Girls Night" is an inspiration to any writer still waiting for their big break. Louise Roche, a mother of three children under five, went out one night with a group of friends to see a musical. She looked around the theatre, saw that the audience was mostly women and thought "I could do this…I could write a show that lots of women will enjoy watching." So she did. From such modest beginnings, "Girls Night" has gone on to incredible success.

"Girls Night: The Musical" earned rave reviews and played to packed houses throughout the United Kingdom. It premiered in the United States in May 2007 and has toured extensively across the country since then. Currently playing a sold-out, open-ended run at New York's Downstairs Cabaret Theatre, it has been described as "'Desperate Housewives'' meets 'Mamma Mia!'" (Applause Magazine), "a boisterous, bust-out, bawdy musical revue" (Wisconsin State Journal) and "As funny and outrageous as 'Sex and the City!'" (The Advocate).

For tickets, call 877-386-6968 or visit www.girlsnightthemusical.com.
-- OnStage Boston