Apollinaire Theatre Company Presents
"The Wonderful World of Dissocia"
Next up from Apollinaire Theatre Company is "The Wonderful World of Dissocia" by Anthony Neilson. Performances are October 30 - November 29 at Chelsea Theatre Works, 189 Winnisimmet Street in Chelsea.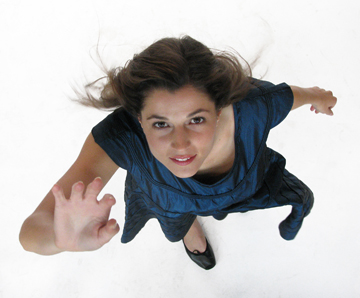 Lisa Jones (Philana Mia at left) is on a journey. She must retrieve one lost hour that has tipped the balance of her life. Her missing hour has been traced to the State of Dissocia, a wonderland ruled by its own eccentric logic, delirious delights and darkest dangers. Will the curious inhabitants of Dissocia help her retrieve the lost hour, or are there reasons far more complex for them to lead her astray?

Originally produced for the 2004 Edinburgh International Festival, "The Wonderful World of Dissocia" wowed critics and audiences alike, cleaning up at the Critics' Awards for Theatre in Scotland. Described as both magical and moving, this is the piece that confirmed Anthony Neilson as one of the major voices in British theatre.
A creator of pioneering, taboo-breaking work, Anthony Neilson writes and directs witty and bold plays that explore unchartered psychological territories. Neilson, who along with Sarah Kane and Mark Ravenhill, was among the "in yer face" generation of 1990s British playwrights, gained prominence for such works as "The Censor" (Writers Guild Award - Best Fringe Play and The Time Out Live Award), "Penetrator," "The Lying Kind," and "Stitching" (Time Out Off West End Award). His films include "The Debt Collector" and "Deeper Still."
Nelson himself has been quoted as saying, "If you like Alice in Wonderland, but there's not enough sex and violence in it, then 'Dissocia' is the show for you."
Recommended for mature audiences, performances will be followed by a Reception with the actors in the Gallery. For information and tickets, call 617-887-2336.
-- Photo: Danielle Fauteux Jacques