---

"A View of the Harbor"
At Merimack Rep
An idealist trying to avoid a legacy of wealth and privilege attempts to find happiness in the most unlikely of places in Richard Dresser "A View of the Harbor," in its New England premiere January 8 - February 1 at Merrimack Repertory Theatre. The production is directed by Artistic Director Charles Towers. Merrimack Repertory Theatre is located at 50 E. Merrimack Street in Downtown Lowell.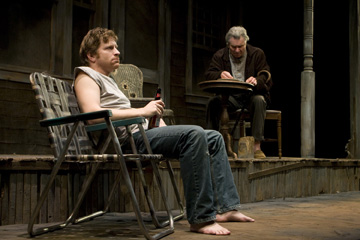 "A View of the Harbor" takes a look at Nick, a blue-collar factory worker, who's got a wealthy girlfriend named Paige. She is drawn to him because, purely by loving him, she believes she can both latch onto a real man and help the downtrodden at the same time.
Having escaped the poverty of his upbringing, Nick has made a nice life for himself. However, when he returns to his home on the northern coast of Maine after his father has a stroke, Paige is shocked to discover a family filled with long buried secrets. In the end, the story offers a sly perspective on money, power and America's never-ending pursuit of happiness.
Sharing his thoughts on Dresser's work, director Charles Towers commented, "I think there is a direct line from Mark Twain through James Thurber to Richard Dresser today -- American satirists who use their sharp wit to dissect the idiosyncrasies of the American character. Rick has his finger on the pulse of America, and he taps out its beat with his fingers on a keyboard. The fact that Rick grew up in Holden (just outside of Worcester), gives him a 'native son' status that fits particularly well with MRT's commitment to selecting and producing contemporary plays of relevance."

A graduate of Brown University with a Masters degree from the University of North Carolina, Chapel Hill, Richard Dresser is especially well-known for his social comedies. "A View of the Harbor" is the third in a series of plays on happiness in America. MRT is only the second theatre in the country to produce the full trilogy, which also includes "Augusta" (2006) and "The Pursuit of Happiness" (2007). MRT has been intimately involved with the development of the play, which included both a staged workshop reading in May 2008 and Towers directing the world premiere production at Contemporary American Theater Festival this past summer.

Dresser's work includes the plays "Below the Belt," "Gun-Shy," "Rounding Third," "Better Days," "Alone at the Beach," "The Downside," "Wonderful World," and "Something in the Air." He has also written ten films. He is currently writing the book for "Red Sox Nation," a musical tragedy about the Boston Red Sox.
For tickets and information, stop by the box office, call 978-654-4678 or visit www.merrimackrep.org.
-- OnStage Boston