Howard Zinn's "Daughter Of Venus"
Suffolk University and Boston Playwrights' Theatre are joining forces to present Howard Zinn's "Daughter of Venus." Wesley Savick directs. Zinn, Distinguished Visiting Scholar at Suffolk University, is also the author of "A People's History of the United States."
Part of Zinn Fest, a city-wide festival showcasing the dramatic work of Dr. Zinn, the production will be presented at Suffolk's C. Walsh Theatre from January 22 – 24 and at Boston Playwrights' Theatre from January 29 – February 8.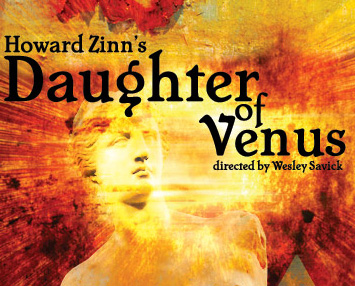 Reminding us that the small choices we make often have major repercussions on the world and on the people we love, "Daughter of Venus" was first presented in 1985 at the Theater for the New City in Manhattan and then in 1986 at Lucille Lortel's White Barn Theatre in Westport, Connecticut.
In the play, Paolo, a biophysicist, must deal with the attempted suicide of his wife and the return of his long-absent daughter in the midst of a professional and ethical crisis. Having vowed never to return to a life of state-funded biochemical weapons development, Paolo must decide whether saving millions is worth the lives of his family --or will he commit the same mistakes he's made in the past?
The cast for includes Ken Cheeseman, Angie Jepson, Paula Langton, Alex Pollock, and Stephen Russell.
A historian, author, and social activist, Howard Zinn has written numerous books including, A People's History of the United States: 1492 to the Present (2006), A Power Governments Cannot Suppress (2007), and You Can't Be Neutral on a Moving Train: A Personal History of Our Times (2002). Receiving his Ph.D. from Columbia University under the GI bill, and having served in World War II as an Air Force bombardier, Zinn went on to teach at Spelman College and Boston University. He has been a visiting professor at several colleges and universities, including the University of Paris and the University of Bologna, and is the recipient of such honors as the Thomas Merton Award, the Eugene V. Debs Award, the Upton Sinclair Award, and the Lannan Literary Award.
A mini-series based on Dr. Zinn and Anthony Arnove's Voices of a People's History of the United States was filmed at the Cutler Majestic Theater last January. Set to air later this year, the mini-series, entitled "The People Speak," will feature Danny Glover, Viggo Mortensen, David Strathairn, Josh Brolin, and Marisa Tomei.
For tickets and information on"Daughter of Venus," call 866-811-4111 or visit www.bostonplaywrights.org.
-- OnStage Boston