Merrimack Rep Presents
Psychological Thriller
"Tranced"
A hypotherapist uncovers international deceit in Merrimack Repertory Theatre's "Tranced " by Bob Clyman. Directed by Kyle Fabel, performances run February 12 - March 8. Merrimack Rep is located at 50 E. Merrimack Street in Lowell.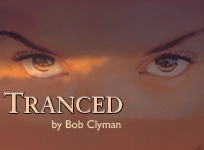 In "Tranced," Philip, a trancing psychologist, is charged with unearthing the repressed traumatic memory of Azmera, a London graduate student suffering from panic attacks.
What happened to her on her volunteer trip to Africa and how could it be linked to the ongoing Kanguya Dam Project? Layered with provocative questions, the outcome could have dire consequences for thousands of people.
Director Kyle Fabel commented, "I've been bothering Bob for years to direct one of his plays. I've been a champion of his work since I first read 'Secret Order' back in about '02. 'Tranced 'is his best play yet. Smart and complex. But at the same time delicious, old-fashioned, edge-of-your-seat storytelling. It reads -- and hopefully plays -- like a note-perfect genre piece...but I wouldn't put a label on what that genre is. Maybe he's creating his own."

"Tranced" is the second play written by Clyman to be produced at Merrimack Rep. In the Spring of 2007, the theater produced the regional premiere of "Secret Order," and was subsequently invited to produce it in New York. It played Off-Broadway at the 59E59 Theaters in 2007 and at the Tony Award-winning Alley Theatre in Houston in 2008. Both the New York and Houston productions were directed by Merrimack Rep's Artistic Director Charles Towers.

Clyman, who considers himself a psychologist first and a playwright second, has a practice in Oldwick, New Jersey, where he is a clinical psychologist noted both for working with criminals and testifying at trials and appeals in the State. He has received numerous national awards for his writing including the Eugene O'Neill Summer Conference Fellowship, New Jersey State Council on the Arts Award, Edward Albee Foundation Fellowship, and Shenandoah Valley Playwrights Fellowship. His play "Famous Ali" was commissioned by Playwrights Theatre for Rowing to America: The Immigrant Project.
Clyman added, "The only thing sweeter than having a highly regarded theater like MRT decide to produce one of my plays is to have a highly regarded theater like MRT tell me it thinks I'm on the right track by inviting me back."

The cast includes Zainab Jah, Mark Zeisler, Kimber Riddle and David Adkins.
For information and tickets, stop by the box office, call 978-654-4678 or visit www.merrimackrep.org.
-- OnStage Boston