A Review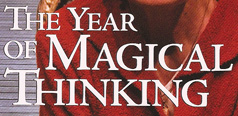 The Vortex Of Life
By R. J. Donovan
The stage is simply set -- one chair, and next to it, a side table which holds a pitcher of water, a half-filled glass and a small bowl of candies. A woman appears from the wings carrying a book -- her own memoir -- sits down, settles herself and says with a stark sense of purpose, "This happened on December 30, 2003."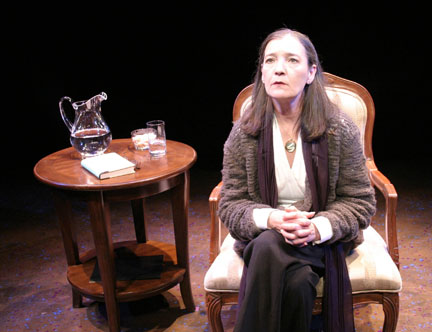 So begins a soliloquy of one woman's journey into a nightmare of horrific loss, despite her fierce attempts to control the inevitable outcome of her tale. Further, she explains that she's sharing this story of grief and mourning because it can happen to you. Easily.
Joan Didion's "The Year of Magical Thinking" is now in its New England premiere at Lyric Stage Company of Boston. Based on the award winning book of the same title (and finalist for the Pulitzer Prize), the story is a true one.
Didion is a well known author, journalist, screenwriter and playwright. And during one incredible period of a little more a year, she lost both her husband (suddenly) and her daughter (in a deceptive process that found death lurking in the shadows waiting to claim its prey).
Her husband, John Gregory Dunne, her partner in life as well as collaborator in writing, dropped dead at the dinner table after returning from a visit to the bedside of their daughter, Quintana, who lay in a coma in the ICU of a New York hospital.
The play's title is drawn from the idea of envisioning the positive outcome you desire. A little bit superstition and a little bit mystical thought process, it's the "If" factor. IF she doesn't throw away her husbands shoes, he will return. IF you hope for something strongly enough, it will be. As Didion herself explains, the idea is not new. The concept dates back centuries, across cultures.
This one-woman show, adapted by Didion herself, debuted on Broadway in 2007 starring Vanessa Redgrave. At the Lyric, it stars Boston's own Nancy E. Carroll in a performance of incredible control and strength. She doesn't rant or rave. She doesn't wring her hangs. She doesn't pace the performance area like a tigress on the prowl. In fact, she remains seated very quietly for most of the evening. Her hands are folded gently in her lap. And she is riveting.
It's also worth nothing that in all the evenings I've spent attending theater over the years, I've never been a part of an audience as quiet as that at Lyric's press opening. Except for one gentleman near the back of the house dropping something to the floor, there wasn't a peep out of anybody. (Even the theater's heating system didn't switch on as it often does mid-performance.) The dead silence made Carroll's performance all the more powerful.
In this biographical tale, Didion is not a sympathetic character. But she doesn't need to be; that's not what the story is about. She's not looking for your sympathy. She's telling you, quite squarely, that this is what happened to her.
Yes, her story of grief and depression and inner pain is uniquely her own. But she's also correct that we'll each endure our own version, some in an instant and others drawn out over a lifetime with varying degrees of understanding why it happened and what it all means.
She comes off as strong, willful, severe, controlling, and at times, almost lacking in raw emotion. She stands outside her own life to analyze and re-analyze what happened. What to do next. What could have been done. What didn't she do. What should she have seen.
She researches medical procedures and situations well past the point of the average consumer. She finds herself quite accurately described by a hospital social worker as "a cool customer."
Does this replacement of emotion with hyper-detailed analysis mean she doesn't have feelings for those she is losing? No. In fact, she dominates in a multitude of ways to save them, assure them, protect them. But the story still takes its own course, despite her digging her heels in and grabbing fate by the lapels.
Eric C. Engel directs with a mindful touch for the ebb and flow of the journey. And the almost imperceptible lighting changes designed by Shawn E. Boyle add a subtle but highly effective touch.
While the story, in its retelling, is extremely sad, the play itself tends to keep its distance, perhaps in deference to Didion's steely nature. Still, "The Year of Magical Thinking" is a fascinating experience, made all the more compelling at Lyric by the exceptional performance of its leading lady.
"The Year Of Magical Thinking" is at Lyric Stage Company of Boston, 140 Clarendon Street, through January 31. For information, call 617-585-5678.
-- OnStage Boston