"Raisin In The Sun"
At Trinity Rep
Trinity Rep in Providence will present Lorraine Hansberry's timeless classic, "A Raisin in the Sun," at Chace Theater from January 30 - March 8. Considered an American masterpiece, Hansberry's play follows the journey of one American family's struggle to achieve a better life. Trinity Rep vet Brian McEleney will direct.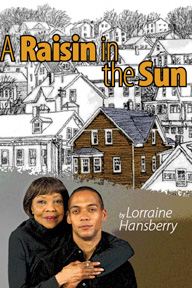 The world of "A Raisin in the Sun" focuses on a small tenement apartment on the South Side of Chicago, where the Younger family believes an insurance windfall is about to change their lives.
What will happen to their dream deferred, as poet Langston Hughes asks in his poem Harlem, from which the play takes its name? "Does it dry up / like a raisin in the sun? / Or does it explode?"

The presentation of this piece is particularly timely as it comes at a critical juncture in our nation's history – with the global economic crisis and home foreclosures looming as we are forced to re-examine goals, dreams and our future.
Director Brian McEleney commented, "One of the reasons this play is so great is that it is utterly specific and at the same time utterly timeless. Like most great realistic plays, 'A Raisin in the Sun' allows us to see the general through the specific, to look at a single family at a single moment in time and to see our own inner lives reflected back at us through their struggles. Through brilliant, beautifully examined characterization, we see the world through the eyes of all the members of the Younger family, and we identify with their dreams, their conflicts, their setbacks and their triumphs."
"A Raisin in the Sun" features resident acting company members Barbara Meek and Joe Wilson Jr. along with Mauro Hantman, Johnny Lee Davenport, and Charlie Hudson III as well as Brown/Trinity Rep Consortium students Lynnette Freeman, Angela K. Thomas Jude Sandy, and Will Shaw.
McEleney has been a member of the resident acting company since 1983. At Trinity Rep he directed the world premiere of "The Dreams of Antigone," as well as last season's acclaimed "All the King's Men," along with past productions of "Our Town," "Hamlet," "Stones in His Pockets," "The Beauty Queen of Leenane," "Dinner with Friends," "Master Class," "Proof," "Mrs. Warren's Profession," and "A Christmas Carol." He is head of the Brown/Trinity Rep Consortium's Acting MFA program.
Trinity Rep will sponsor a public forum about the issues, visions and reality in "A Raisin in the Sun" at 2 p.m. on Saturday, March 7, in the Chace Theater. Moderated by Sam Coale, Associate Professor of English at Wheaton College, the open forum discussion will feature scholars and artists who have explored these issues from a variety of perspectives. Admission is free, no reservations are required, and attendance at "Raisin" is not necessary to attend.
Talkbacks will be held after every performance of "A Raisin in the Sun." Audiences are invited to share their response to the play's themes for approximately twenty minutes.
For information and tickets, call 401-351-4242 or visit www.trinityrep.com.
-- OnStage Boston