"dark plays or stories for boys"
At Apollinaire Theatre Company
Romeo and Juliet Meets The World Wide Web
The season at Apollinaire Theatre Company (formerly TheatreZone) continues with Carlos Murillo's "dark play or stories for boys," which received its world premiere at the 31st Annual Humana Festival of New American Plays at Actors Theatre of Louisville in March of 2007. Performances are February 20 - March 22 at Chelsea Theatre Works, 189 Winnisimmet Street in Chelsea.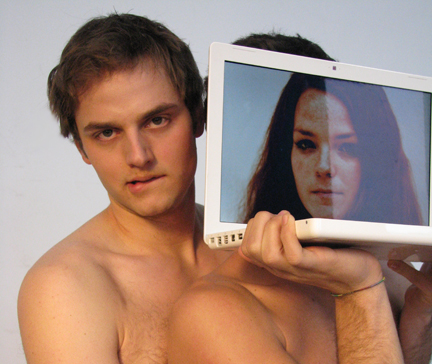 When 14-year old Nick comes across a naively worded ad from 16-year-old Adam reading "I want to fall in love," he's blown away.
Already bored with cyber sex and posting fake online ads, Nick invents the girl of Adams's dreams, Rachel, and Adam winds up falling hard. But as the cyber relationship heightens, so do the emotional stakes in the real world, until the two collide.
Nick's seemingly outrageous deceptions are closely based on true events which took place in Manchester, England, where, for the first time in British history, a person was convicted for inciting their own murder.
"dark play or stories for boys" stars Emerson BFA student Erez Rose as Nick, together with Emerson BFA student Christine Busler as Rachel, and recent Emerson alum Mark Vashro as Adam. Emerson alum Apollinaire Artistic Director Danielle Fauteux Jacques directs.
Erez comes to Boston from the Performing Arts High School (Fame School) in New York where he also performed Off-Off-Broadway and in national commercials. Brian Quint ("Eurydice" at New Rep) and Lorna Nogueira ("The Thugs" at Apollinaire) complete the cast.
"dark play or stories for boys" is recommended for mature audiences. Performances will be followed by a reception with the actors in the Gallery. For tickets and information, call 617-887-2336 or visit www.apollinairetheatre.com.
Production photo: Danielle Fauteux Jacques
-- OnStage Boston