---

New Rep Bids Willkommen
With Kander & Ebb's "Cabaret"
New Repertory Theatre will present Kander and Ebb's musical "Cabaret" from January 11 through February 1 at the Arsenal Center for the Arts in Watertown. The winner of 8 Tony Awards, the popular show includes such well-known musical numbers as "Willkommen," "Don't Tell Mama," and "Tomorrow Belong To Me," along with the enduring title song.
Based on the John Van Druten play "I Am A Camera" and stories by Christopher Isherwood, "Cabaret's" book is by Joe Masteroff, with music by John Kander and lyrics by Fred Ebb. First produced on Broadway in 1966, "Cabaret" was brought to the screen by Bob Fosse in an Oscar-winning 1972 film version starring Liza Minnelli and Michael York, with Joel Grey recreating his stage role of The Emcee.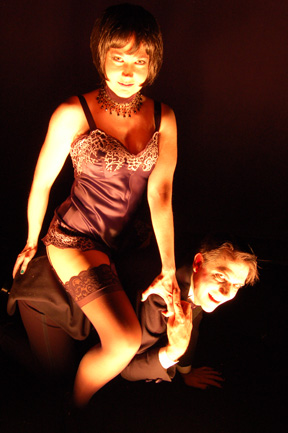 "Cabaret" introduces audiences to the decadence of 1920's Berlin where Cliff, a lost American writer, enters the shadows of The Kit Kat Club and gets caught in a seedy sea of painted lips and rouged cheeks. With the club's eerie Emcee advising everyone to "Leeff your troubles outzide," Cliff enters into an ill-fated romance with Sally Bowles, the club's second rate burlesque star. Meanwhile, the Nazis are rising to power and the club soon begins to reflect the hardness of the outside world.

Director Rick Lombardo commented, "This production of 'Cabaret' is extremely special for me, as it is the last production I will be directing at New Rep as their Producing Artistic Director. I have the opportunity to work with many of the artists whose work has defined my time here at New Rep, and 'Cabaret' allows us
all to explore the social, political and human themes that have informed so much of my work here."

The cast will feature Aimee Doherty (above) as Sally Bowles, John Kuntz (above with Doherty) as The Emcee and David Krinitt as Cliff, along with Paul D. Farwell, Paul Giragos, Cheryl McMahon, Maurice E. Parent, Shannon Lee Jones and The Boston Conservatory students Jason Modica, Dan O'Connor and Peter Nicholas Romagna.
For tickets and information, call 617-923-8487 or visit www.newrep.org.
Note that free parking is available at the six-level parking garage across from the Arsenal Center for the Arts, located at 321 Arsenal Street in Watertown.
-- OnStage Boston