"Virginia Woolf" At Publick Theatre
October 1 - 24
Publick Theatre Boston will kick off its fall season with Edward Albee's penetrating exploration of marital strife and truth versus illusion, "Who's Afraid Of Virginia Woolf?" Directed by Diego Arciniegas and featuring Tina Packer and Nigel Gore as Martha and George, performances are set for October 1 - 24 at the Plaza Theatre at the Boston Center for the Arts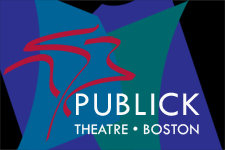 In this harrowing evening, aging history professor George and his razor-tongued wife Martha have returned home from another tedious faculty event at a small New England college. But the night is far from over. Martha has invited a young new professor, Nick (Kevin Cain), and his mousy wife, Honey (Angie Jepson) for late-night cocktails and parlor conversation. Pleasantries dissolve as the liquor flows, and the party swirls into an escalating war of words between George and Martha. The young couple is soon drawn into the volcanic battle, exposing dark secrets within their own marriage. By dawn, no one remains unscathed.
Under the leadership of Producing Director Susanne Nitter and Artistic Director Diego Arciniegas, The Publick has experienced a renaissance, garnering critical acclaim, including the prestigious Eliot Norton Award for Outstanding Production in 2005 for "Arcadia" by Tom Stoppard. The company has also expanded its offerings to include contemporary works, such as George Bernard Shaw's "Misalliance" and Noel Coward's "Hay Fever," as well as an original translation of Anton Chekhov's "The Seagull."
In addition to its outdoor home along The Charles River, The Publick has also been a Resident Theatre Company at the Boston Center for the Arts since fall of 2008. The Publick continues to expand and explore a deepening repertory of works indoors, receiving both critical praise and nominations for both the Elliot Norton Awards and Independent Reviewers of New England. Indoor productions at the BCA have included Noel Coward's "Design for Living," Tom Stoppard's "Travesties," Brian Friel's "Faith Healer," and most recently, the New England Premiere of Charlotte Jones' "Humble Boy."
For tickets and information, call the Boston Theatre Scene box office at 617-933-8600 or visit www.bostontheatrescene.com.
-- OnStage Boston