A Review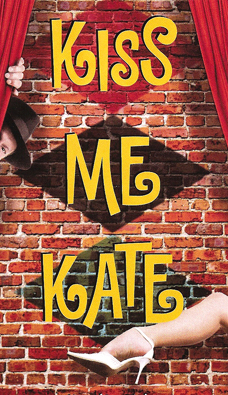 Another Opening, Another Season
By R. J. Donovan
"Kiss Me Kate" at Lyric Stage begins with the beautifully staged number, "Another Opening, Another Show." This number alone shows what Lyric can so nicely accomplish with a large cast and a relatively small stage. It starts slowly and warmly with one single character on stage before building to an energetic finish with the entire company. The number itself is its own tip of the hat to the beginning of yet another season -- the 36th -- at Lyric. The production is directed by Producing Artistic Director Spiro Veloudos with choreography by Illyse Robbins.
With a wonderful score by Cole Porter and a book by Sam and Bella Spewack, "Kiss Me Kate" is great material for those who love old-fashioned, very traditional musicals. Presented as a play within a play, it's bright, colorful and energetic. The backstage story follows a theater company presenting an on-stage run of a pre-Broadway musical version of Shakespeare's "The Taming of the Shrew."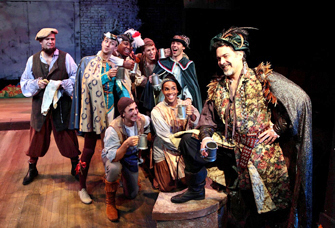 Fred Graham (Peter Davenport, at far right), the director of "Shrew," has his hands full because he also happens to be starring in the production -- made all the more challenging because his leading lady, Lilli Vanessi, is his fiery, real-life ex-wife -- who, despite the love that still flickers for her ex-husband, has latched onto a new love her own.
There's also supporting player and hopeless gambler Bill Calhoun, who has eyes for chorine Lois Lane, who, in turn, has eyes for the previously mentioned Fred Graham. Through mistaken love notes, romantic misunderstandings, a forged IOU and the ugly whiff of jealousy, the bickering backstage soon spills out in front of the footlights. Along the way, we also meet a couple of gangsters thrown in for good measure.
As the contemporary theater company presents the work of The Bard, time shifts back and forth with relationships, personalities and storylines mirrored between the two plots.
The score includes such timeless numbers as "Why Can't You Behave," "So In Love," "Too Darn Hot" and "From This Moment On." In the Clever Lyrics department, Porter shines with numbers like "We Open In Venice" and the witty "Brush Up Your Shakespeare." Porter-aholics consider this his best score -- all the more accomplished when you consider that the composer was in constant pain from a riding accident when he wrote it.
"Kiss Me Kate" first hit Broadway in 1948, starring Alfred Drake and Patricia Morrison and winning the Tony as Best Musical. A film version followed in 1953, starring Howard Keel, Ann Miller, Kathryn Grayson, Bobby Van and a young Bob Fosse. The most recent New York stage revival came in 1999, starring Brian Stokes Mitchell and Marin Mazzie (both coming off of triumphant performances in "Ragtime").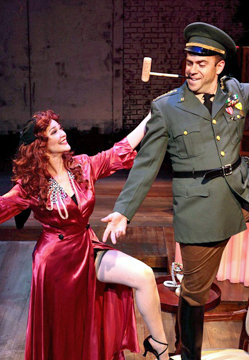 The cast at Lyric is led by Peter Davenport as Fred Graham and Amelia Broome (at left with Timothy John Smith) as Lilli. Both handle the music beautifully, with Broome further establishing her place as one of Boston's most charming talents. She was a new voice -- at least to Boston -- when she enchanted everyone last season in SpeakEasy Stage Company's lovely production of "The Light In The Piazza." She continues to build recognition as well as great affection among audiences.
R. Patrick Ryan (Joe Kennedy in "Grey Gardens" last season at Lyric) is Bill Calhoun with Michele DeLuca as Lois Lane. They team for "Why Can't You Behave," DeLuca struts her stuff in "Always True To You Darling In My Fashion" and Ryan leads the whimsical "Bianca."
As Graham's dresser, Kennedy Pugh is wonderful delivering "Too Darn Hot" at the top of Act Two. Mary Callanan is Hattie, Lilli's dresser. And although the role isn't large, Callanan shines every time she's on stage, including the opening number.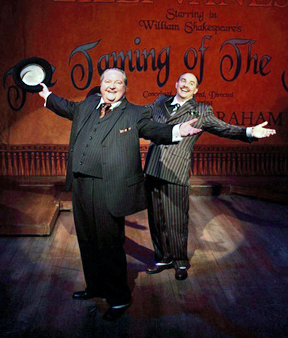 As Lilli's new love, Timothy John Smith is over the top funny as the smarmy and officious General Harrison Howell (particularly in "From This Moment On").
And as the two gangsters, J. T. Turner and Neil A. Casey (at left) add just the right amount of dimwitted insight. Casey's deadpan glare is especially funny. Both are crowd pleasers in "Brush Up," which is presented -- as Porter intended -- with two encores.
Special mention also needs to be made of Rafael Jean's beautiful costuming. The colors, textures and design add greatly to the show's theatrical authenticity.
All in all, Lyric kicks of the fall season with a musical from Broadway's golden days, presented with great affection.
"Kiss Me Kate" is at Lyric Stage Company of Boston, 140 Clarendon Street, through October 10. For information, call 617-585-5678.
-- Production Photo: Mark S. Howard
-- OnStage Boston