---

Downstage@New Rep
Opens Season With
"2.5 Minute Ride"
New Repertory Theatre will open its fourth season of Downstage@New Rep with Lisa Kron's "2.5 Minute Ride." Starring Adrianne Krstansky, the one woman show will be directed by M. Bevin O'Gara. With performances scheduled from October 4 - 24, New Rep is located at the Arsenal Center for the Arts, 321 Arsenal Street in Watertown.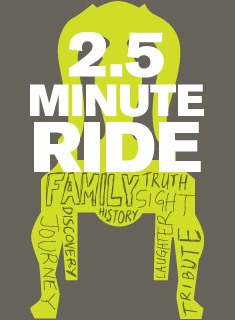 "2.5 Minute Ride" invites audiences on a journey that is both uproariously funny and surprisingly sobering, as they meet a cast of characters from the Kron family album. From her devout Jewish brother desperate to find his "shana maidel," to her own experiences as a gay woman, and her 75-year old father returning to Auschwitz where his parents were killed, Kron questions how we can find humor in the midst of life's cruelest twists of fate.

O'Gara commented, "I am thrilled to be making my Downstage@New Rep directing debut with Lisa Kron's clever and personal piece '2.5 Minute Ride.' During my two years as the Artistic Associate at New Rep, some of my favorite moments occurred in the Black Box Theater. It is an intimate space that begs for the audience to be included in the experience of a play. And the combination of getting to work in that space and with one of my favorite actresses, Adrianne Krstansky was just too perfect to pass up."

Kate Warner, New Rep's Artistic Director, added, "I am excited to be working on '2.5 Minute Ride' for many different reasons. Lisa and I are both alumni of Kalamazoo College; Bevin is an extremely talented director; and I was roommates with Adrianne one winter when we both taught at Kalamazoo."

"2.5 Minute Ride" marks Adrianne Krstansky's second time onstage as Lisa Kron, having appeared in "Well" at the New Century Theater at Smith College. At New Rep, she played Agnetha in "Frozen" and directed Diego Arcinegas in "Thom Pain (based on nothing)." Other New England performance credits include: "Britannicus" and "Ubu Rock" at American Repertory Theater, "November" at Lyric Stage Company, "Gary" at Boston Playwrights Theater, "Danny and the Deep Blue Sea" at the Vineyard Playhouse, "Closer" at Wellfleet Harbor Actors Theater, "Bug" at Boston Theater Works, and "Snakebit" at Speakeasy Stage. Off-Broadway she has been seen in "365 Days/365 Plays" at the Public Theater and "Luck Pluck and Virtue" at Atlantic Theater Company. She is an Assistant Professor of Theater Arts at Brandeis University.
Lisa Kron has been writing and performing theater since coming to New York in 1984. Her play "Well" opened on Broadway to critical acclaim in 2006, receiving two Tony nominations "2.5 Minute Ride" premiered in New York at the Public Theater in 1999 and went on to receive an OBIE Award and many other awards and nominations. Kron's other plays include: "101 Humiliating Stories" (Drama Desk nomination), "Charity" and "Montecore." In 1989, along with four other women, Kron founded the OBIE and Bessie Award winning company, The Five Lesbian Brothers, dedicated to "[creating] provocative lesbian theater for the masses through the fine feminist art of collaboration." Kron is the recipient of a Guggenheim Fellowship, the Cal Arts/Alpert Award, an NEA/TCG playwriting fellowship, and grants from the Creative Capital Foundation and New York Foundation for the Arts.
For tickets and information, call 617-923-8487 or visit www.newrep.org. (Free parking is available in the parking garage adjacent to the Arsenal Center for the Arts.)
-- OnStage Boston