Charlestown Working Theater's
Fall Season
The Charlestown Working Theater has announced it's Fall Season, including the World Premiere of Tennessee Williams' "Remarkable Rooming House of Madame Le Monde," Neil LaBute's "BASH" and CWT's acclaimed adaptation of "The Odyssey." All performances will take place at the Charlestown Working Theater, 442 Bunker Hill Street in Charlestown.
Season details are as follows: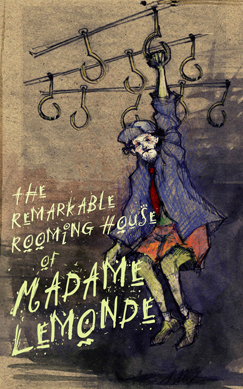 September 18 - 19
"The Remarkable Rooming House of Madame Le Monde"
By Tennessee Williams
Directed by Davis Robinson
Presented by Beau Jest Moving Theatre
Featuring Larry Coen, Jordan Harrison, Nick Ronan, and Lisa Tucker
Teatime turns into torment, and desperation into absurd laughter. The award-winning Beau Jest Moving Theatre returns to the Charlestown Working Theater with a world premiere production of "The Remarkable Rooming House of Madame Le Monde," a savage comedy by Tennessee Williams written late in his life. In a London boarding house, mysteriously paralyzed man named Mint moves around his attic by swinging from hooks as he prepares for tea with his old friend, Hall. A dark, disturbing tale with a sinister sense of humor, "Rooming House" was originally written to shock as part of an evening of Grand Guignol that was never produced. This memorable play is a must-see for anyone interested in the great playwright's experimental work. Originally commissioned by the Provincetown Tennessee Williams Festival; for mature audiences only -- adult themes and language.

October 2-3, 8-10 and 15-17
"BASH"
By Neil LaBute
Directed by Darren Evans
Presented by Theatre on Fire and the Charlestown Working Theater
Theatre on Fire opens its fifth anniversary season at the Charlestown Working Theater with Neil LaBute's triptych of intense one-acts depicting the dark heart of ordinary people and the casual evil that surrounds us in everyday life. In "Medea Redux," a woman tells of her complex teenage relationship with her high school English teacher and the tragedy that resulted; in "A Gaggle of Saints," a young college couple simultaneously recounts their separate versions of a trip to a party in New York City that takes a surprising and violent turn; and in "Iphigenia in Orem," a Utah businessman confesses an unthinkable and chilling crime.
November 6- 22
"The Odyssey"
Created and Performed by CWT Co-Directors Jennifer Johnson and John Peits
An adaptation of Homer's epic poem for two people traveling together in a small boat across a half-real, half imaginary landscape. This tale of exile and return is told in fragments, floating on top of song, text, image, and physicality -- a kaleidoscope of one-eyed giants, voodoo priestesses, and seafarers, surrounding the story of Odysseus and Penelope. CWT's critically-acclaimed adaptation of "The Odyssey" played to sold-out audiences last winter and is returning for six performances only.
For tickets, call 617-242-3285 or visit www.charlestownworkingtheater.org.
-- OnStage Boston