A Review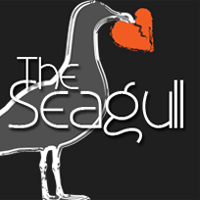 Love, Jealousy & The Anguish of Art
By R. J. Donovan
Publick Theater is back at its summer home in Christian Herter Park on the banks of The Charles River, this season -- its 38th -- presenting Chekhov's "The Seagull" and Noel Coward's "Hay Fever" in repertory.
Opening night for "The Seagull" was delayed a bit by one of our all-too-common downpours, but that's part of the challenge (and charm) of performing outdoors under the stars. Ya gotta be flexible. And the show does go on.
The biggest challenge of the night, however, was not the weather, but hearing the actors speak. While the cast is filled with pros, some of them just didn't project well enough. The stage had several floor mikes, but they weren't picking up all of the dialogue. And more than once, speeches were delivered upstage with the actors' backs to the audience. It may make for realistic staging, but not when you have to strain to follow what's being said.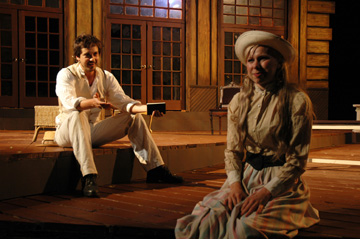 Chekhov has set "The Seagull" on a rural Russian country estate with the ensemble piece swirling around the extended family of actress Irina Arkadina and her son Constantine Treplieff.
Constantine fancies himself a playwright offering a breath of fresh air for a new theater. His mother, hardly the warm and cuddly type, taunts his work as being meaningless. Adding further conflict is Constantine's competitive relationship with his mother's lover, Boris Trigorin, a prominent writer.
Romance abounds, but in triangles that breed unhappiness. Constantine is smitten with Nina, the innocent who appears in his new play. Nina, however, is more interested in Trigorin. Constantine, in turn, is the object of Masha's eye. She's the daughter of the estate's steward and Constantine barely knows she's there.
No matter the players involved, ambition, anxiety and jealousy prevail as the theatrical games spin. By the final curtain, Nina has suffered her share of passion, Trigorin proves to be a cad and Constantine fails, yet again, to win the affection of his mother, who lives only in the spotlight of her own ego.
The cast includes: Susanne Nitter as Arkadina; Tyler Reilly as Constantine; Robert Serrell as Trigorin; Hannah Wilson as Nina; Dafydd Rees as Peter, Arkadina's brother; Joel Colonder as Yevgeny Dorn; and Lynn Guerra as the all-in-black Masha.
Artistic Director Diego Arciniegas has adapted Chekhov's original script for the Publick production, adding a contemporary flavor to the language which sometimes works against itself. He's also restated the play's ending which normally exists only in the imagination of the audience.
"The Seagull" plays at the Publick through through September 7, with "Hay Fever" opening July 24. The two pieces will play in repertory. For information, call 617-454-1444.
Production Photo: Kippy Goldfarb/Carolle Photography
-- OnStage Boston