Broadway's Donna McKechnie Kicks Up Her Heels
In Reagle Players' "No, No, Nanette"
Donna McKechnie, who originated the role of Cassie in "A Chorus Line," will star in the Reagle Players production of the classic twenties musical, "No, No, Nanette," the final production of Reagle's summer season. Performance dates are August 7 - 16 at Robinson Theatre in Waltham.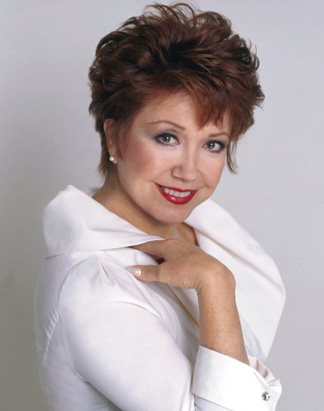 Combining the nostalgia of the 1920's with the charm of Atlantic City bathing beauties, dashing billionaires, a wisecracking maid, and misunderstandings galore, "No, No Nanette" is offers one great musical number after another. The show's happy Victor Youmans score includes such popular songs as "Tea For Two" and "I Want To Be Happy."
The show originally opened on Broadway in 1925 followed by two film versions and a third "adaptation" for film. The 1971 Broadway revival of the show drew legendary tap-dancer Ruby Keeler out of retirement to dazzle New York audiences. A recent New York production, part of City Center's Encore! series, starred Sandy Duncan and Rosie O'Donnell.
The 1925 production also holds the distinction of having played a role in placing a decades-long whammy on the Boston Red Sox. Red Sox owner and theatrical producer H. H. Frazee needed financing to bring "Nanette" to Broadway. As the story goes, in order to raise cash for the show, Frazee sold Boston's Babe Ruth to the New York Yankees. While the show took New York by storm, a sports competition reared its ugly head -- and The Curse of the Bambino was born. The curse has obviously been reversed with the Sox winning The World Series, but the legacy of "Nanette" dances on.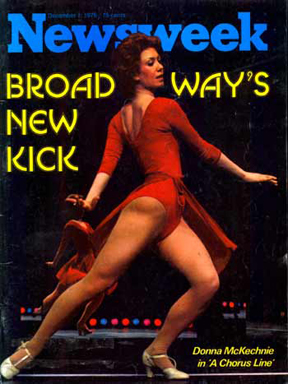 And speaking of legacies -- when a performer creates an iconic role in a landmark Broadway musical, that role is forever associated with them. Such is the case of McKechnie and "A Chorus Line."
While others have gone on to play the role in other productions (including the current Broadway revival), Cassie will always be imprinted with the inimitable talents of McKechnie. Her sleek lines, sculptured moves and elegant style in that show won her the Tony Award as Best Actress in a Musical. And at the height of the show's impact, her photo (at left) graced the cover of Newsweek.
Beyond "A Chorus Line," McKechnie's impressive Broadway credits include: "Company," "Promises, Promises" (remember "Turkey Lurkey Time?") "How To Succeed in Business Without Really Trying," "On The Town," "State Fair," "The Education of Hyman Kaplan" and "Sondheim – A Musical Tribute" (which she also choreographed).
She was acclaimed for her portrayal of Sally in the revival of "Follies" and starred as the title character in Bob Fosse's final production of "Sweet Charity," which coincidentally played Boston. In addition to her Tony Award, McKechnie received a Fred Astaire Award for Best Female Dancer during the 1995-96 season. Other distinctions include Theatre World Award and Drama Desk Award wins as well as Helen Hayes Award and Ovation Award nominations.
Robinson Theater is located at 617 Lexington Street in Waltham. Free parking is available. For information and tickets, call 781-891-5600 or visit www.reagleplayers.com.
-- OnStage Boston