Can You Spell Award-Winner?
"Spelling Bee" Opens At North Shore
The Tony Award-winning musical comedy, "The 25th Annual Putnam County Spelling Bee" -- one of Broadway's most buzzed about hits – will be in attendance at North Shore Music Theatre from August 12 – 31. The production is directed by Jeremy Dobrish with choreography by Dan Knechtges.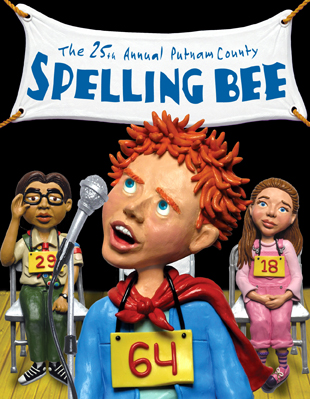 "The 25th Annual Putnam County Spelling Bee" is a hip musical comedy that looks at six young people in the throes of puberty at a spelling bee. The motley crew is overseen by grown-ups who barely managed to escape childhood themselves. Along the way, everyone learns that winning isn't everything and that losing doesn't necessarily make you a loser.
Music and lyrics by William Finn with a book by Rachel Sheinkin and conception by Rebecca Feldman.
As on Broadway, four audience volunteers will be selected at each performance to participate onstage in the bee, therefore making each performance unique. "The 25th Annual Putnam County Spelling Bee" is recommended for theatergoers 13 and above.

Created, workshopped and developed in 2004 by the Barrington Stage Company in western Massachusetts, "The 25th Annual Putnam County Spelling Bee" opened Off-Broadway in 2005 at Second Stage Theatre where it was an instant hit. It subsequently move to Broadway's Circle-in-the-Square Theater four months later. It closed in New York in January of this year.
Nominated for six Tony Awards including Best Musical – it took home two awards for Best Book of a Musical and Best Featured Actor in a Musical. "The 25th Annual Putnam County Spelling Bee" at NSMT is a co-production with the Barrington Stage Company where it appeared earlier this summer.

The cast features Emy Baysic, Emerson College graduate Miguel Cervantes, Hannah Del Monte, Molly Ephraim, Demond Green, Clifton Guterman, Michael Mastro, Eric Peterson, and Sally Wilfert.

Barry Ivan, North Shore's Artistic Director and Executive Producer, commented, "Each production that we have brought to the NSMT mainstage this season has been unique and 'Spelling Bee' is no exception. Set in a school gymnasium, 'Spelling Bee takes a hilarious and heartwarming look at the pressures of growing up through the eyes of quirky yet lovable characters competing for the title of spelling bee champ. We're pleased to present this production whose witty and endearing music and lyrics are created by Massachusetts' own William Finn."

Additional Free Audience Enrichment Events:
Meet the Theatre:
A post-show audience discussion with the artists on August 19 following the 7:30 p.m. performance and August 30 following the 2 p.m. performance
Spotlight on History
A free pre-show discussion focusing on historical issues related to the performance (co-presented by the Wenham Museum) on August 24
Out at the North Shore
An evening for the Gay and Lesbian Community with a post-show reception on August 28.
Kids Club Program
The theater is offering a new Kids Club program for parents and kids ages 4-11. With the purchase of an adult ticket to the August 24 production of "The 25th Annual Putnam County Spelling Bee," parents are invited to enroll their children in a special free theater workshop on site at NSMT while they attend the show. NSMT's teaching staff will lead classes in acting, dancing and singing at the theater. This program is free of charge, however advance reservations are required by Friday, August 22. The Kids Club will also be a part of other mainstage musical productions in the 2008 season on dates yet to be announced.
For tickets and information, call 978-232-7200 or visit www.nsmt.org.
-- OnStage Boston