Ken Howard Stars as Tip O'Neill
This Summer At New Rep
New Repertory Theatre, in residence at the Arsenal Center for the Arts, has announced the World Premiere of "According to Tip," a play with music by Dick Flavin, starring Tony and Emmy Award winner Ken Howard. Just in time for election season, "According to Tip" will play June 22 - July 13.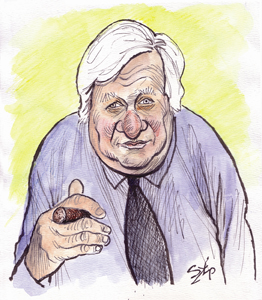 Tracing the colorful and historically memorable career of Thomas P. "Tip" O'Neill, former Speaker of the House, "According to Tip" will escort audiences back in time from Barry's Corner in Cambridge to the White House. Filled with humor, music and Irish wit, "According to Tip" offers the inside scoop on politics during the Red Scare, Watergate and Vietnam eras.

Rick Lombardo, New Rep's Producing Artistic Director commented, "I'm thrilled to be working with Ken Howard and Dick Flavin on 'According to Tip.' New Rep's dedication to new work comes from a mission to expose Boston audiences to emerging playwrights, and to nurture the future of American theater."

Ken Howard launched his acting career in 1968 with a role in the original Broadway production of the Neil Simon-Burt Bacharach musical, "Promises, Promises." He also originated the role of Thomas Jefferson in "1776" for which he won a Theatre World Award, later returning to the role for the 1972 film version. In 1970, he won a Tony Award for his work in "Child's Play." From 1976 – 1981, he starred in as the title character in the TV series "The White Shadow." Other film and television credits includes: "The Thorn Birds," "The West Wing," "Curb Your Enthusiasm," "Crossing Jordan," "Rambo," "Cane," "Smother" and "Michael Clayton." He will soon be seen in the film adaptation of "Grey Gardens."

A nationally known writer and humorist, Boston's own Dick Flavin added, "Ken Howard and Rick Lombardo are the perfect team to bring Tip O'Neill to life on the stage of the New Rep. I can hardly wait."
Flavin has made thousands of speaking appearances across America, chiefly addressing groups on the subject of how to use humor as a strategy in business and in life. His television commentaries have appeared on NBC-TV, CNN and WBZ-TV in Boston. He is the winner of seven New England regional Emmy Awards for writing and commentary and was the narrator of "The Teammates," an ESPN documentary that was nominated for three national Emmy Awards. Known as the "Poet Laureate of the Boston Red Sox," he has written countless poems and song parodies about the team and its history, some of which are being compiled into a compact disc and DVD. The most well-known of them, "Teddy at the Bat," a salute to Red Sox legend Ted Williams based on Ernest Lawrence Thayer's immortal "Casey at the Bat," has been performed by Mr. Flavin at the National Baseball Hall of Fame, at Fenway Park and in cities and towns across the country. He was the co-host of and contributing writer to "Red Sox Stories," a weekly television series that ran during the 2007 baseball season. He has also written and performed special material for the Boston Pops and Boston Symphony orchestras. In addition to "According the Tip," Mr. Flavin has also written "I Feel a Song Comin' On," a soon to be produced musical about renowned lyricist Dorothy Fields.
For tickets and information, call the box office at 617-923-8487 visit www.newrep.org.
-- OnStage Boston