---

Olympia Dukakis
Hosts 2008 "Spectacular"
At The Huntington
Academy Award-winning theater and film star Olympia Dukakis (best known for her work on the films "Moonstruck" and "Steel Magnolias," the play "Rose," and the acclaimed TV miniseries "Tales of the City") will host the Huntington Theatre Company's 2008 "Spotlight Spectacular!" gala benefit on Monday, May 5, at the Sheraton Boston Hotel and Towers.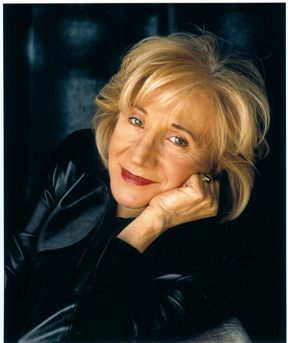 Proceeds from "Spotlight Spectacular!" support the Huntington's programs, including its award-winning youth, education, and community outreach initiatives. Last year's event, which sold out, raised more than $700,000.

This year's event honors Huntington Trustee Carol Deane and her husband Disque, who have been loyal patrons and supporters of the company for many years.
The Deanes will receive The Wimberly Award, the Huntington's highest honor -- named for long-time Board Chairman J. David Wimberly and presented to those who have demonstrated outstanding commitment to the company.

Chaired by Huntington Trustee Kristine Scoon and her husband Davey, "Spotlight Spectacular!" features a cocktail reception during which guests may bid on unique and interesting silent auction items while enjoying hors d'oeuvres and mingling with guests, including stars of recent and upcoming Huntington productions. A seated dinner, live auction, and entertainment by the Huntington's special friends will follow.

An online auction, now open at www.huntington.cmarket.com, allows Huntington patrons and friends to bid on select items prior to the event. Among the featured items are Red Sox/Yankees tickets, the video game "Rock Band," a tour of the "America's Test Kitchen" set, dinners at Boston's best restaurants, golf outings, theatre tickets, and much more.

Olympia Dukakis became a household name and much sought-after film actress after she turned in an Oscar-winning performance as the sardonic mother in the 1987 romantic comedy "Moonstruck." However, she had been a staple on the New York theatre scene since her Broadway debut in 1961. From cutting-edge comedy to stark tragedy, she has spent the past 30 years as of one of Hollywood's top character actors.
Born in Lowell, Dukakis made her Broadway debut as an understudy in "The Aspern Papers" at age 30. After Olympia married Yugoslav-American actor Louis Zorich, the New York-based couple co-founded The Whole Theatre Company in Montclair, New Jersey, and ran it for 15 years. She scored theater triumphs in "A Man's a Man" (for which she won an OBIE Award in 1962), and made an impact in productions of "The Cherry Orchard," "Mother Courage," "Six Character in Search of an Author," "The Rose Tattoo," "The Seagull," "The Marriage of Bette and Boo" (OBIE Award) and many performances of the title role in "Hecuba."

Her scene-stealing work in the 1986 Broadway comedy "Social Security" caught the eye of director Norman Jewison and earned her the "Moonstruck" role the following year. In addition to the Oscar for Best Supporting Actress that year, "Moonstruck" earned Dukakis awards from the New York Film Critics, Los Angeles Film Critics and the Golden Globes. Dukakis subsequently appeared landed high-profile roles in "Steel Magnolias" (1989), "The Cemetery Club" (1993) and "Mr. Holland's Opus" (1995) among others. On TV, she broke ground with her sympathetic portrayal of Mrs. Madrigal, the transgender landlady in the epic miniseries "Tales of the City" (1993) and its sequel, "More Tales of the City" (which earned her an Emmy Award nomination).
Table prices for "Spotlight Spectacular!" range from $7,500 to $25,000, with individual tickets priced from $500 to $1,500. For more information about the event, to sponsor a table, or to purchase tickets, contact Michelle Williams at (617) 273-1536.
-- OnStage Boston