A Review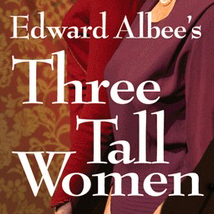 And So It Goes . . .
By R. J. Donovan
Those unfamiliar with Edward Albee's "Three Tall Women" are well advised to remain patient. The play's two acts take decidedly different tones. And without giving too much away, the linear form of Act One is dwarfed by the exceptional drama that awaits in Act Two. Overall, we are about to see the examination of a life.
As the play opens, a cranky, well-to-do elderly woman nears the end of her life. She's being attended to by a private caretaker and a young woman representing the patient's attorney. The elegantly appointed bedroom is adorned with a cut-glass chandelier, crystal sconces and chairs whose upholstery match the architectural panels set into the walls.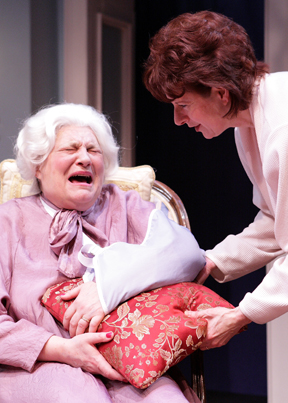 In contrast to the neatly appointed setting (designed by Cristina Todesco), the woman is not as sharp. Lost in a mental purgatory somewhere between the past and the present, she roars between happy memories of her youth to the painful torture of a body that's failing her. She rambles, she laughs, she cries -- never remaining in one time zone very long. The ultimate hurt is that she occasionally realizes exactly how much she doesn't remember.
Edward Albee is known for raw, unsympathetic characterizations and biting dialogue. It's also common knowledge that the prolific playwright often relies on his own life experiences for inspiration. "Three Tall Women" is no exception. His relationship with his adoptive mother was strained, to put it mildly. And when the play reveals a shattered split between mother and child, we can only imagine the reality of the devastation.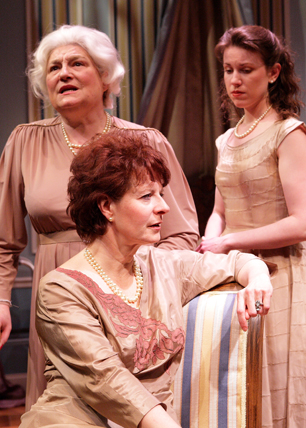 Director Spiro Veloudos has assembled a beautifully matched trio of women for this production, and all three ultimately grip you with their intensity.
The characters have no names, simply identified in the program as (left to right) A, B and C.
A is the dying woman, beautifully played by Anne Scurria. B, the caretaker, is played by Paula Plum. Liz Hayes is C, the young legal assistant.
The three give handsomely crafted performances that add up to a powerful total. Standout moments include: the wistful memories of A as a young woman with a special confidence in social situations; the middle-aged sexual dalliance of B; and finally, the elderly acceptance of a light that's growing dim.
In a conversation prior to the show's opening, Spiro mentioned to me that Albee is one playwright who doesn't warrant a lot of directorial flourishes. That said, Spiro's careful hand is evident in the detailed shading that adds subtly, but enormously, to the carefully fashioned evening.
"Three Tall Women" is at Lyric Stage, 140 Clarendon Street in Boston, through April 26. For information, call 617-585-5678.
-- OnStage Boston