A Review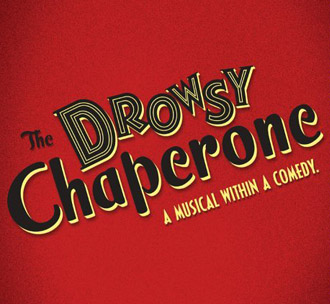 Bee's-Knees Escapism
By R. J. Donovan
Everyone has that favorite piece of music that transports them. It could be a Sinatra ballad, an Eagles hit or an aria by Puccini. Whatever the case, you just put back your head, close your eyes and drift off to another time and place.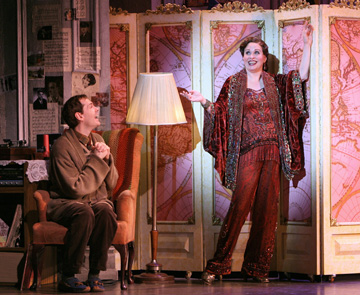 In "The Drowsy Chaperone," it's a Broadway show that hits all the right buttons for a character known simply as Man In Chair (because for a good portion of the show, he just sits in a chair). All he wants out of life is a glittering musical to whisk him away.
As the show begins, we find ourselves in the cramped New York City apartment of Man In Chair, a theater fanatic swaddled in a bulky cardigan sweater. He speaks directly to the audience, enthusiastically inviting us to join him in listening to one of his favorite Broadway recordings from a 1928 show called "The Drowsy Chaperone." He delights in showing us the well-worn album jacket in the way serious collectors preen over a rare possession.
He places the vinyl circle on his record player ( . . . yes, record player), gently drops the needle in place and the scratchy sounds of days gone by emanate from the tiny speaker. As he shares the trivia of the show with us, the music blossoms, the theater orchestra swells and the show suddenly bursts to life in front of us, filling the shabby little apartment with singers and dancers, sets and costumes, and eventually, an airplane.
It's all really happening in his head (and his heart), but no matter. He dearly loves this show. And we soon come to dearly love him for his passion -- as well as the scathing remarks he makes about life and love and the very actors who are standing before us.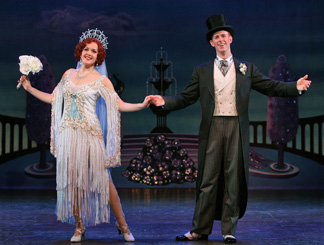 The colorful show-within-a-show story is all about a brilliant Broadway starlet, Janet Van De Graaff, who's about to give up her career for love. In the time honored pre-wedding tradition, she's attended to by a grande dame of a chaperone -- who just happens to love her liquor. Add a groom who kisses the wrong gal, a Broadway producer who's desperate to call off the proceedings to keep his cash cow star from retiring, a Latin lothario who oozes the word stereotype, a couple of gangsters who masquerade as pastry chefs, a ditzy but lovable matron, a long-suffering butler known as Underling and you've got the idea.
It's a frilly chestnut -- overacted and erupting with slapstick humor and time-worn antics. However, Man In Chair's commentary acknowledges that -- which cleverly gives us permission to sit back and relish it. The spit-takes, the racial stereotyping, the old-fashioned, scene-stealing star-turns, the production number with the perfectly awful lyrics -- they all play an integral part in creating a sharp, funny, highly entertaining evening that's smartly written and enthusiastically presented.
When Man in Chair needs to get our attention, he plucks the needle off the record -- and the stage action freezes. When the record skips, the actors stutter until he gives the turntable a whack. And when there's a power outage, the entire show grinds to a halt. Simple ideas? Sure, but it's all done with such style and precision, you can't help but love it.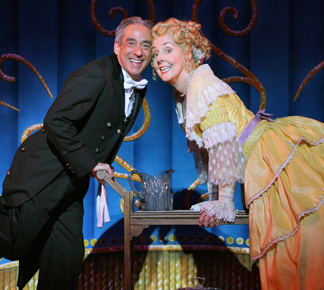 As Janet Van De Graaff, Andrea Chamberlain (photo above) sings with power, winning the crowd over with her look-at-me swan song, "Show Off." Mark Ledbetter (above, with Chamberlain) tap dances up a storm as her intended beau. Fran Jaye is Trix, the big-voiced aviatrix who swoops in for the finale. Real life brothers Paul and Peter Riopelle play the gangsters on the loose. Georgia Engel (above) from the original Broadway company, is the dotty Mrs. Tottendale, who's hosting the wedding-to-be but never seems to realize it. Robert Dorfman (above with Georgia Engel) is Underling, Cliff Bemis is the producer, Richard Vida is a dancing powerhouse as the Best Man, and James Moye is Aldolpho the lothario, who as Man in Chair says, has a thousand accents, all of them insulting.
Delicious is the only way to describe Nancy Opel (top photo) as the lush of a bejeweled chaperone, hilariously chewing the scenery as she belts her boozy anthem, "As We Stumble Along," to the rafters.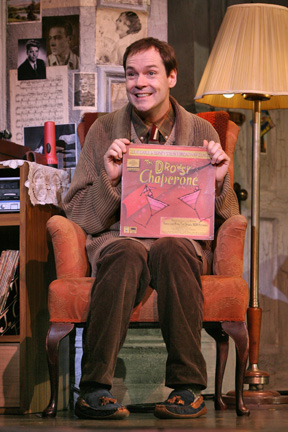 And finally, there's the engaging charm that holds all of this together -- Jonathan Crombie (at left) as Man In Chair. (Crombie also played the role on Broadway.) With a dexterity for smacking an acerbic comment out of the park without ever making it seem forced, he's laugh-out-loud funny as he dishes and complains and philosophizes on everything from long-dead performers to the modern crisis of cellphone impropriety. He has an especially good late-in-the-plot rant that builds and builds to a hysterical head. And in the final moments of the show, he brings such warmth and heart to the night, you're puddling up for him.
Accurately touted as "a musical within a comedy," "The Drowsy Chaperone" is the zippy invention of Lisa Lambert and Greg Morrison (music and lyrics) and Bob Martin and Don McKellar (book). The magic that really makes it all soar is their nimble juxtaposition of the present day narrative against the sugary musical of long ago. Plus there are a couple of unexpected left turns that keep the pace bright.
The television ads currently airing really don't do this Tony Award-winning show justice because no thirty second spot can adequately convey the kind of charm and imagination "Drowsy Chaperone" offers. You've got to experience it firsthand.
Which I heartily recommend you do, before May 5.
"The Drowsy Chaperone" is at The Opera House, 539 Washington Street in Boston, through May 5. For information, call Ticketmaster at 617-931-2787.
Production Photos: Joan Marcus
-- OnStage Boston