A Review

Jugglers and Tumblers and Clowns, Oh My!
By R. J. Donovan
The Big Apple Circus, the original One Ring Wonder, is back in town with another sparkling show, this time celebrating its 30th anniversary. As for the past few seasons, the company has hoisted its tent in City Hall Plaza -- conveniently located just steps from the Government Center T Station.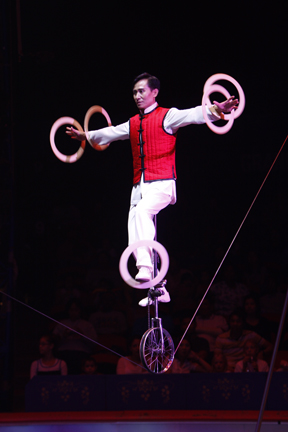 The magic of the Big Apple lies in the intimacy it offers. With one ring (vs. three), your attention is focused on the action, which is diverse, colorful, up-close and personal (witness Cong Tian at left). Big Apple calls upon the best international performers available, always combining humor and spectacle with crowd-pleasing excitement. And this year's edition is no different.
Making their American debut, the Italian clown team of Fumagalli and Daris open the show with a curtain-riser that gets everyone settled in for the fun to come. They do their thing several times during the night, in their own spots and between acts, capping their appearance with a "Little Bee" slapstick routine complete with cascading spit-takes that have the junior members of the peanut gallery in hysterics.
Big Apple icon, Grandma, is also on hand to spin her beads, toss popcorn on unsuspecting guests and monkey around with musical director Rob Slowik (who once again leads a killer band, live above the ring).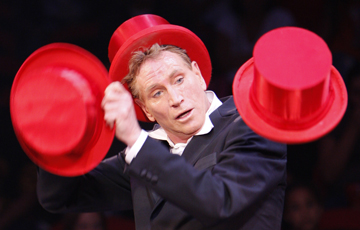 From Ireland, The Huesca Brothers present a tumbling act that's great. From Russia, Yelana Larkina amazes with hula-hoop magic. Irina Markova (also from Russia) sends her pooch pals through their motions (although with an odd Christmas theme), aided by a feline friend or two. And from Switzerland, Kris Kremo (at left) demonstrates his exceptional juggling skills with everything from cigar boxes to a trio of bright red top hats.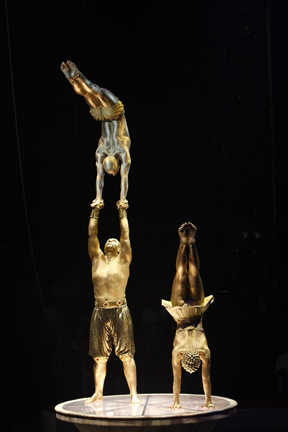 In the spectacle department, Andrey Mantchev, Virgile Peyramaure and Sarah Schwarz (at left) perform an astounding "Golden Statues" act that demonstrates strength and balancing that can only be described as phenomenal. Cong Tian (top photo) whirls, twirls and rides a unicycle on the slim slack-wire. And the spectacular Kovgar Troupe score in two spots. In Act One, they bring a whole new dimension to the art of jumping rope, and in Act Two, they return with their teeter board to sail through the air singly, in pairs and finally on stilts. Again, just extraordinary.
Aside from the "wow" factor, the Big Apple is also in the "good works" business, sending their entertainers out into the community to do all kinds of good things. Their Clown Care professional hospital clowning program operates in 18 pediatric hospitals from Atlanta to Seattle (including Boston). Circus For All distributes 50,000 complimentary tickets to economically disadvantaged and physical challenged kids so they can savor the wonder of the circus -- many for the first time. Beyond the Ring is an arts in education program. And Circus of the Senses invites kids with vision or hearing disabilities to experience the joy of the circus with a specialized performance just for them -- free of charge.
Presented in partnership with The Boston Children's Museum, The Big Apple Circus continues through May 4.
So be a kid or take a kid. You'll have a good time either way.
"The Big Apple Circus" is at City Hall Plaza through May 4. For information, stop by the Box Office adjacent to the Big Top (opens daily at 10 AM), call Ticketmaster at 617-931-2787, or visit the BosTix Booths in either Faneuil Hall or Copley Square.
Production Photos: Bertrand Guay/Big Apple Circus
-- OnStage Boston