Publick Theatre Launches 2008 Season
With Stoppard's "Travesties"
April 10 - May 3
The Publick Theatre will open its 2008 Season with Tom Stoppard's "Travesties" April 10 – May 3 in the Plaza Theatre at the Boston Center For The Arts, located at 539 Tremont Street in Boston's South End.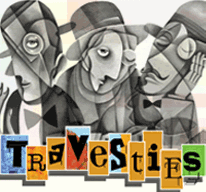 "Travesties" is a witty examination of the politics of art and the art of revolution. A spoof of Oscar Wilde's classic comedy "The Importance of Being Earnest," the play offers Stoppard's creation of a fiery debate among a trio of Modernist thinkers -- Vladimir Lenin, Dadaist Tristan Tzara and James Joyce -- on the role of artists in shaping society.
Set in Zurich 1917 and told through the dubious recollections of British diplomat and amateur thespian Henry Carr, these revolutionaries and their beliefs on history, war, politics, and humanity, collide in a clever but freewheeling battle of aesthetics and wordplay.

Directed by Publick Theatre's Artistic Director Diego Arciniegas, the cast includes Nigel Gore, Alejandro Simoes, Derry Woodhouse, Gabriel Kuttner, Molly Schreiber, Lynn Guerra, Dafydd Rees, and Lorna Nogueira-McKenzie.
This summer, Publick Theatre returns to its outdoor home in Christian Herter Park on the banks of The Charles River with a new translation (by Diego Arciniegas) of Anton Chekhov's "The Seagull" from July 3 - September 7, followed by Noel Coward's "Hay Fever" from July 24 - September 14.
In October, the company returns to the BCA for their theatre residency with Brian Friel's "The Faith Healer" from October 23-November 22.
For tickets and information contact the Boston Theatre Scene Box Office at 617-933-8600 or visit www.bostontheatrescene.com.
-- OnStage Boston