10th Annual Boston Theater Marathon
One-Day, Ten-Hours, 51 Plays
For its 10th anniversary, The Boston Theater Marathon will feature a a theatrical smorgasbord of fifty New England theatre companies combining forces with fifty-one New England playwrights and more than a hundred actors and directors to present 10 non-stop hours of entertainment.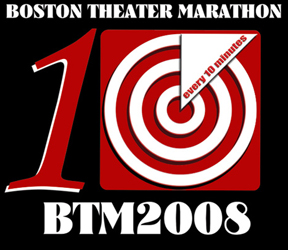 Under the organization of Boston Playwrights' Theatre, the BTM will take place on Sunday, May 11, at the Stanford Calderwood Pavilion in Boston's South End. Called a "... significant contribution to the American Theatre" by The Dramatists Guild of America, this special charity event will raise funds for the Theatre Community Benevolent Fund.
Kate Snodgrass, Co-Founder and Artistic Director of the Boston Theater Marathon, commented, "When we created the Marathon ten short years ago, we wanted to connect playwrights with producers. I had no idea it would become one of the benchmarks of Boston's theatre calendar. This year we're not just celebrating the playwrights -- we're celebrating the little festival that could."
Participates are slated to include Ed Bullins, John Kuntz, Robert Brustein, Theresa Rebeck, Israel Horovitz, Georgia Lyman, Christopher Lockheardt, Rick Park, Gail Phaneuf, Monica Raymond and others. A full list of play titles will be released closer to the event.
All-day tickets are available for $25 (pre-sale) or $30 at the door. Visit www.bostontheatrescene.com or call 617-933-8600 for more information.
-- OnStage Boston