On Tour With "A Drowsy Chaperone"
A Conversation With Jonathan Crombie
By R. J. Donovan
Jonathan Crombie's character in the hit musical "The Drowsy Chaperone" has no name. However, he proves to be the show's lovable heart and soul.
Simply called Man in Chair, he's a diehard, musical theater fan who eagerly invites the audience to join him in listening to the recording of one of his favorite shows -- the 1928 chestnut, "The Drowsy Chaperone."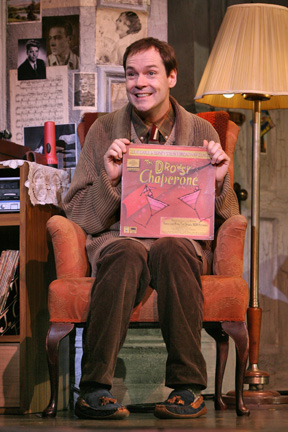 Dressed in corduroys and a bulky sweater, he tenderly slides the LP from its well-worn jacket and drops it on his record player. The entire show subsequently bursts to life in his cramped, little Manhattan apartment, complete with a pampered Broadway starlet, a domineering producer, a Latin lover, tipsy chanteuse and a pair of gangsters.
Through it all, Man In Chair provides acerbic commentary, not only explaining the plot but dishing on the performers as they go through their motions.
The Canadian Crombie, who made his Broadway debut in this show, said the magic of the ingenious production lies in its broad appeal. "It's the perfect musical for everyone. For the musical lovers ... and the musical haters," he laughed.
He explained that while the show has great music and a very clever story line, it continually comments on itself and the genre. He said that "brings it to a modernist level and more of a 'Second City' perspective. So when they bill it as a 'musical within a comedy,' I think they got it right. It's all done through the funneling of Man In Chair's sensibility."
Commenting on Man In Chair's charm, he said, "People respond to his unabashed affection and enthusiasm, and the purity of that. Even though he feels a little unsettled being in front of this crowd . . . the fact that he's so up front about why he loves (the show) and how much he loves it allows people to immediately latch onto him."
So does Crombie have a favorite musical of his own?
"'Guys and Dolls,' I think, has one of the best scores I've ever heard." But he added that when he was cast in the show, he consulted with Lisa Lambert (co-writer of the music and lyrics) "to find out . . . what musicals to listen to to delve into what this man's taste was. I watched an old musical from the thirties called 'Love Me Tonight,' with Maurice Chevalier and Jeannette MacDonald."
He said the "Isn't It Romantic" musical is all about "a tailor (Chevalier) who pretends to be an aristocrat when he falls in love with Jeannette MacDonald. It's great. I become a real Maurice Chevalier fan after that."
While the other actors in "The Drowsy Chaperone" make the usual entrances and exits as the story unfolds, Crombie, as narrator and host, is onstage for virtually the entire show -- which has no intermission.
"It's really fun to watch," he said. "And I'm also a sucker for when things go awry." The show has several moments when the action stops and all the characters freeze in their spots. He said, "Every now and then there's an actor who's gotta sneeze, or the coughs start coming out. And I enjoy beholding that."
Crombie's credits in his native Canada range from classic Shakespearean roles at Toronto's respected Stratford Festival, to a recurring role in the Canadian series "Sling & Arrows" (seen here on Sundance Channel) and playing Gilbert Blythe in CBC Television's popular "Anne of Green Gables."
And while he joined the Broadway company of "The Drowsy Chaperone" in 2007, the show's national tour marks his official introduction to the United States as well as his first visit to Boston.
"I bought a camera that has 27 exposures," he said. "Originally we were going to be going to 27 cities, so my big deal was to take one picture in each city."
With "The Drowsy Chaperone" tour having been happily extended, Crombie's going to need another camera.
"The Drowsy Chaperone" plays at The Opera House from April 22 - May 5.
Production Photo: Joan Marcus
-- OnStage Boston