David Copperfield Presents
"An Intimate Evening of Grand Illusion"
At The Opera House May 9 - 11
Illusionist David Copperfield works to make some of your best dreams (and gravest nightmares) a reality. A longtime favorite of Boston audiences, Copperfield returns to The Opera House from May 9 - 11.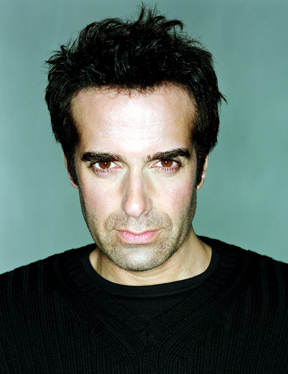 The grand wizard says "For magic to be relevant, it has to evolve so it keeps up with, or even surpasses, film and theatre. I want to base my work on what people really dream about."
He's been knighted by the French government, receiving the Chevalier of Arts and Letters; he's presented live performances to more than 20 million people worldwide in the past decade alone; he's appeared in 18 award-wining prime time television specials in more than 40 countries; and he's racked up19 Emmy Awards.
What few people know is that Copperfield's secret passion is preserving the history of magic. Several years ago, he purchased the Mulholland Library of the Conjuring and the Allied Arts, which includes more than 80,000 pieces, ranging from prints and books to playbills, manuscripts, letters and scrapbooks of magicians through the years. The oldest piece reportedly dates back to the 16th century.
Numbered among the treasures are several items owned by Houdini, including the only known recordings of his voice. The collection was expanded with Copperfield's further acquisition of The Cole Collection, the largest assemblage of magic related documents and artifacts in the United Kingdom. Thanks to Copperfield, the International Museum and Library of the Conjuring Arts provides a permanent home for what is now the world's largest magic collection.
"An Intimate Evening of Grand Illusion" includes a magical family reunion, the danger of a live African scorpion and a primer on how to choose the ideal lottery numbers.
As well, Copperfield will attempt to pass through a steel panel - and in the Grand Finale, the master showman will make 13 members of the audience, chosen purely at random, disappear from the middle of The Opera House stage
For tickets and information, stop by The Opera House box office or call 617-931-2787.
-- OnStage Boston