Cirque Du Soleil Returns to Boston
With
"KOOZA"
"Cirque du Soleil" returns to Boston in a new location this fall with its latest touring production "KOOZA," set to open on Friday, September 5. "KOOZA" will be presented at Bayside Expo Center under the trademark blue-and-yellow Grand Chapiteau (Big Top) for a limited engagement.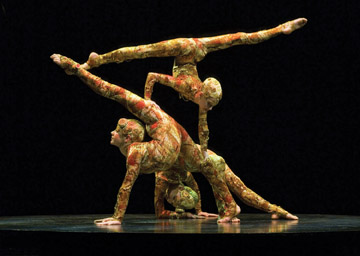 This year's show marks a return to the origins of Cirque du Soleil, combining two circus traditions - acrobatic performance and the art of clowning. The show highlights the physical demands of human performance in all its splendor, presented in a colorful mélange emphasizing bold slapstick humor.
"KOOZA" tells the story of The Innocent, a melancholy loner in search of his place in the world. Between strength and fragility, laughter and smiles, turmoil and harmony, "KOOZA" explores themes of fear, identity, recognition and power. The show is set in an exotic visual world filled with surprises and thrills.
Cirque Club members may purchase advance tickets immediately at www.cirquedusoleil.com. Membership is free and club members receive advance access to the best seats under the Grand Chapiteau, ticket upgrades, partner promotions and insider information on the world of Cirque du Soleil.
-- OnStage Boston