A Review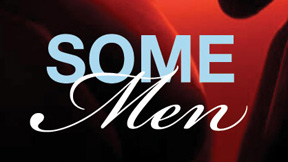 Make Your Own Kind Of Music
By R. J. Donovan
Following the success of last month's "The Little Dog Laughed," SpeakEasy Stage Company has come up with another winner in Terrence McNally's "Some Men."
Described as chronicling the experience of gay men over the past 80 years, "Some Men" premiered in New York just a year ago. SpeakEasy is presenting the New England premiere.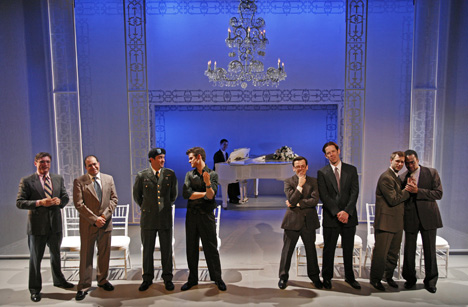 The evening starts and ends with a same sex wedding ceremony at the Waldorf. In between,we see a series of short, nonlinear scenes featuring a variety of situations and characters.
Old and young, black and white, some characters make only one appearance, while others return, linked by time and relationship.
McNally explores how gay men relate to one another from don't-ask-don't-tell to internet dating. We see a closeted, married man having his first experience with a young male escort; a soldier attending the funeral of his lover, killed in the line of duty; a bath house hook-up; gay Dads; a group therapy session; a long-ago look at a well-to-do gentleman who maintained a lifelong and always secret relationship with his Irish immigrant chauffeur; and an unusual view of the Stonewall riots from the viewpoint of those who weren't actively involved.
Some bring a lump to the throat (the group therapy session) while others are sharp and funny (the internet chat room sequence). The funniest of the lot finds two young gender studies college students interviewing an older gay couple, flummoxed at being termed "elders."
The short scenes don't always allow for enormous depth in story development, however they succeed as windows into the lives of a varied group of men who hold the common desire of reaching out to someone.
Director Paul Daigneault maneuvers the evening with a thoughtful hand, keeping the action focused on the emotional relationships whatever the setting. He also provides musical bumpers to each scene, some setting a tone and others commenting on the topic. The selections range from Bette Midler and Cass Elliot to Lerner & Loewe and Rodgers & Hammerstein. The wedding is given an elegant touch with Bach's "Arioso."
Not unlike the New York production, the set is simple but stylish -- a white piano upstage and white bamboo banquet chairs for each of the actors. A crystal chandelier hangs above. Set designer Eric Levenson has created a highly effective set of stenciled scrim screens that slide back and forth to reveal and create new locations.
The nine-member ensemble cast features a cross section of some of the city's best talents, many of them making their SpeakEasy debut. Robert Saoud is a riot as half the older couple, as well as one of the chat room buddies. Christopher Loftus is the heartbroken soldier plus a chat room guy oozing with bravado. Ben Lambert is the Irish chauffeur as well as a young gay Dad and one of the gender students. Paul Cereghino is the second student along with the male escort and the wealthy employer of the chauffeur.
Will McGarrahan is equally funny as the other half of the older couple in addition to playing an annoying therapy participant. In the Stonewall scene, he's a foul-mouthed drag queen who stumbles (literally) into a piano bar. During his simple rendition of "Over The Rainbow" you can hear a pin drop.
Maurice E. Parent is great in a number of roles, shining in a 1930 Harlem nightclub scene that kicks off the second act with a secret about the song "Ten Cents A Dance." Christopher Michael Brophy is half a longtime couple as well as part of the focus at the therapy session. And Andrew Wehling does double and triple duty, first at the piano and then filling a number of small roles.
While every one of the actors is strong, the standout of the evening is Diego Arciniegas who gives a sensitive and measured performance as the closeted, married man. He's one character we follow through multiple scenes as he maneuvers a difficult journey of change. Arciniegas does a wonderful job conveying everything from terror at being found out to elation at being discovered.
"Some Men" will appeal to gay men of all ages, however, its audience is not and should not be exclusively gay. The need to be known for who you are, and the desire to find someone to love in life is universal.
As Mama Cass said, "nobody can tell ya, there's only one song worth singing."
"Some Men " is at The Calderwood Pavilion at the Boston Center for the Arts, 527 Tremont Street in Boston, through March 29. For information, call 617-933-8600.
Production Photos: Mike Lovett
-- OnStage Boston