---

2008 - 2009 Season At New Rep
The 2008 - 2009 Season at New Repertory Theatre in Watertown will include everything from "Three Sisters" and "The Lieutenant of Inishmore" to "Cabaret," "Exits and Entrances" and the return of "Santaland Diaries" and "A Christmas Carol." All performances are at the Arsenal Center for the Arts.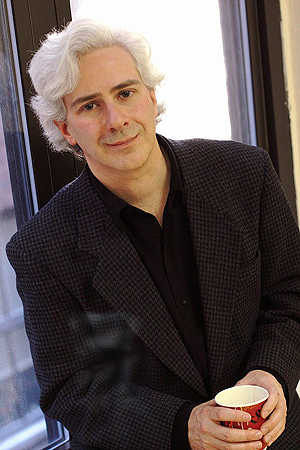 Producing Artistic Director Rick Lombardo (at left) commented, "Our Season will be filled with the works of playwrighting masters. Chekhov, McDonagh, Fugard, and Kander and Ebb have written exciting, challenging, and thought provoking pieces that our audiences will engage and connect with."

Mainstage Productions:

"Three Sisters" by Anton Chekhov
Raised with the utmost standards of refinement and taste, Olga, Masha and Irina cling to vivid memories of the thriving Moscow they left as children. The play, in a new translation by Curt Columbus, begins on the anniversary of their father's death. Feeling suffocated and unable to bear the triviality of their lives, the sisters endeavor to fill them with excitement. Tempers flare and appetites go unchecked, eliciting treacherous responses which turn this proper Prozorov home into an emotional minefield.
"The Lieutenant of Inishmore" by Martin McDonagh
Funny and blood-curdling, this is an unapologetic farce. The award-winning comedy tells the story of a ruthless Irish Republican Army enforcer, "Mad" Padraic, and the one thing he loves more than anything else in the world . . . his little black cat, Wee Thomas. But someone has killed Wee Thomas. Was it an accident or an execution? Whoever is responsible had better fess up,or Padraic's reign of terror will come crashing down on the small Irish island of Inishmore. From the author of "The Pillowman."

"Cabaret" - Joe Masteroff, John Kander,Fred Ebb
Welcome to the decadence of 1920's Berlin as Cliff, a lost American writer, enters the Kit Kat Club and gets caught in a sea of painted lips and rouged cheeks. He meets Sally Bowles, a burlesque star, who ensnares him in her life of devine decadence. History is in the making as the Nazis rise to power. The winner of 8 Tony Awards, this popular musical includes such favorites as "Willkommen," "Maybe This Time," "Don't Tell Mama," and "So What?"

"Exits and Entrances" by Athol Fugard
Engulfed in a world defined by the division of apartheid, a young man, addressed only as The Playwright, prepares an arrogant and aging star for the evening's performance of "Oedipus Rex." The Playwright struggles to find his voice, and the actor confronts his fear of no longer being admired, needed or wanted. As they debate, the pair find themselves at odds about why art matters and the extent of its impact on the world.

One additional play is still being selected for the Mainstage season.
Downstage @ New Rep in the Black Box Theater will include either "Body Politic" by Jessica Goldberg or "Gutenberg! The Musical!" by Scott Brown and Anthony King, plus one addition production to be announced.

Holiday Attractions will include:

Charles Dickens' "A Christmas Carol"
On The Mainstage
Adapted for the stage and directed by Rick Lombardo
New Repertory Theatre, in collaboration with the Arsenal Center for the Arts and Watertown Children's Theatre, revives its popular adaptation of Dickens' classic holiday story with all the trimmings of a lavish Victorian Christmas.

"The Santaland Diaries" By David Sedaris, adapted by Joe Mantello
Downstage @ New Rep in the Black Box Theater
Following his second sold-out run this past December, the wickedly funny Macy's Elf, returns in this strange-but-true account of adventures in holiday retailing.

Subscriptions for New Rep's 2008-2009 season are on sale now. Information on different membership packages can be obtained by contacting New Rep's Box Office at 617-923-8487 or via e-mail at info@newrep.org.
Note that "A Christmas Carol" and "The Santaland Diaries" are not included in any subscription package.
-- OnStage Boston