"Chess" In Concert
From Boston Conservatory
April 11 - 13
The Boston Conservatory Theater Ensemble will present a concert production of "Chess" from April 11-13 at The Boston Conservatory Theater, 31 Hemenway Street in Boston.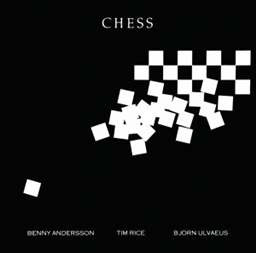 Taking place during the waning years of the Cold War, the driving pop musical tells the story of a romantic triangle involving two players in a world chess championship, loosely based on the characters of Victor Korchnoi and Bobby Fischer. Lyrics are by Tim Rice with music by Björn Ulvaeus and Benny Andersson of ABBA fame. The Boston Conservatory production will be directed by Kevin Mark Kline.

According to Kline, "'Chess' features such powerfully moving music, but on stage it demands a bold new vision. I believe The Boston Conservatory offers the right level of talent and theatrical bravery to re-imagine this beloved musical in a concert setting. I'm truly excited to be leading this team."
The score includes "One Night In Bangkok," "Heaven Help My Heart," "I Know Him So Well" and the rousing solo, "Anthem."

Kline is a graduate of The Boston Conservatory (B.F.A. in musical theater with directing emphasis). His recent credits include the New England premiere of "Gorilla Man" (Boston Theatre Works), the world premiere of "The Educated" (Boston Playwrights' Theatre), "Off Hollywood & Vine" (Boston Theatre Works), "The Exile" (Boston Theatre Works), "What Happens In Vegas" (Zeitgeist Stage / Boston Theatre Marathon), "Children of Eden" (Riverside Theatre Works), "The Music Man" (Riverside Theatre Works) and "Amahl and the Night Visitors" (Riverside Theatre Works).
In the Conservatory production, the role of Freddie (the American chess player) will be performed by Will Larche; Anatoly (the Russian chess player) will be performed by Matthew Thompson; Florence (Freddie's second) will be performed by Kimberly Suskind; and Molotov (Anatoly's second) will be performed by Joseph Alicea. All are students pursuing professional training at The Conservatory.
"Chess" first came to public attention via a concept recording, not unlike "Evita" and "Jesus Christ Superstar." Concert presentations of the show followed throughout Europe. The first staged production opened in London's West End in 1986 and featured British musical theater star Elaine Paige. The show transferred to Broadway two years later in a vastly revised version. A national tour was eventually mounted, but the closest it got to Boston was an engagement at the Bushnell Theatre in Hartford. The latest high-profile presentation of the show will be a concert version at London's Royal Albert Hall in May featuring Idina Menzel, Josh Groban and Adam Pascal in the lead roles.
For tickets and information to the performances at Boston Conservatory, call the box office at 617-912-9222.
-- OnStage Boston